Dukes and Ladders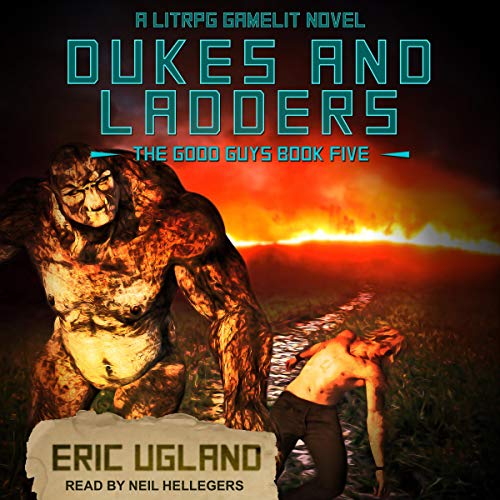 Review #1
Dukes and Ladders audiobook free
This is a very enjoyable book that advances the storyline in an interesting direction. On to the next book to see where the author goes next!
Review #2
Dukes and Ladders audiobook Series The Good Guys Series
I've enjoyed this series since book 1, but it has had its ups and downs along the way. For me, book 4 was the biggest dip yet. The game announcements and information was at an all time low, and the story arc seemed to peter out a little bit into a series of quests/actions.
The good: the action is more consistent, the plot line is tighter and more satisfying and the character arc is solid. I do think the series has lost some of the charm it had in the first three books, but that has been replaced by grittiness and more significant emotional issues.
The not quite so good: the first quarter or third of the book is a bit aimless, as our MC turns into a whiner. I found this frustrating and somewhat unbelievable, as he has led people through a killer dungeon, through life and death situations in Osterstadt, and in travelling across the wilds. But now, all of sudden, he feels he can't be a leader to his people. I felt it was at odds with who the MC had been in previous books, and while this is a new situation I didn't expect him to simply run away from his responsibilities.
Once this is resolved, the book picks up steam and the action starts rolling. The ending is solid, and I have already pre-ordered book 6.
Overall, this is still a fun series. and I read the book in one sitting, start to finish despite the points I made above. The extra notifications do help bring this back into gamelit/light LitRPG territory which is nice as well. A definite improvement over book 4, and the best setup yet for the next book in the series.
Review #3
Audiobook Bear Attraction by Eric Ugland
As indicated this book is a big improvement from the last one. I think it is because the story is making more sense. A few annoying quips here and there but a vast improvement from the last. Hopefully in the next book the action will increase and the story as a whole will be enjoyable.
Review #4
Audio Bear Attraction narrated by Neil Hellegers
I really like this story but the MC is really bugging me. It has been reiterated multiple times by his advisors the actual training is better than stat dumping, but the MC does it often. For instance he is a fighter wanna be summoner but never really trains anything other than strength and when big fights happens dump points into swords/shields to get better. We know the MC Intel stat is low but he isn't stupid but he keeps doing things contrary to what he knows is the smart action which can't be explained by (cause the situation). He is consistently getting hung up on minor details. He "trusts" his advisors but never really trusts what they tell him, knows he lacks knowledge but never tries to train it or get more info cause "boring". #SPOILER why do troops after swearing fealty to him disobey his orders to his face and even draw steel on him? That makes absolute NO SENSE even if it's because of previous fights with new characters. The fact that he can see his troops on the verge of making trouble or disobeying with no reacting from him other than to break a sword or say ill deal with it later also is ludicrous. This guy is NOT playing like an experienced player would be and maybe that is catering to the book audience but I doubt people who read rpglit need catering to. SUGGESTION ONLY he is a smart person playing a stupid character so make him want to improve that character. Otherwise it comes off as a stupid guy playing a stupid character. Other than that I really enjoy this series.
Review #5
Free audio Bear Attraction – in the audio player below
But the series is still absolutely amazing. I wish he'd try using his greater tame, even just a little, seems like a collosal waste of a blessing considering he now has 2 of them and the potion. Even if magic isn't for him he could still use it like once a day or something and have an army of wolves with him. Maybe I'm misunderstanding the book. He also seems to have given up on training? I know he's busy but considering everything he has a lot of times, (spell books, attribue potions, magic weapons and armour, skill books, epic artifacts, useful small spells, like are we forgetting how insanely powerful humus was when cast on someone's face?) He doesn't seem to use much, my issue is then this. If he's under attack and his villagers die, will he feel guilty for not using all the tools at his disposal? Will he think "huh if I'd of just given out the spell + skill books, potions, like I said I would, would I have lost so many lives?" Should the reader even care about this new village if the Lord is clearly not doing everything in his power to help it himself? Should we care about his hiro when he's not even preparing them for what's to come? Maybe the author has gotten carried away making the protagonist all powerful that he's forgotten half his blessings? I guess we'll see what happens in the rest of the series
Play all audiobooks Best Fiction audiobooks Best Non-fiction audiobooks Best Romance audiobooks Best audiobooks
---
Galaxyaudiobook Member Benefit
- Able to comment
- List watched audiobooks
- List favorite audiobooks
---
GalaxyAudiobook audio player
If you see any issue, please report to [email protected] , we will fix it as soon as possible .

Hi, the "Bookmark" button above only works for the Audio Player, if you want to do browser bookmark please read this post: How to bookmark.