Six of Crows audiobook – Audience Reviews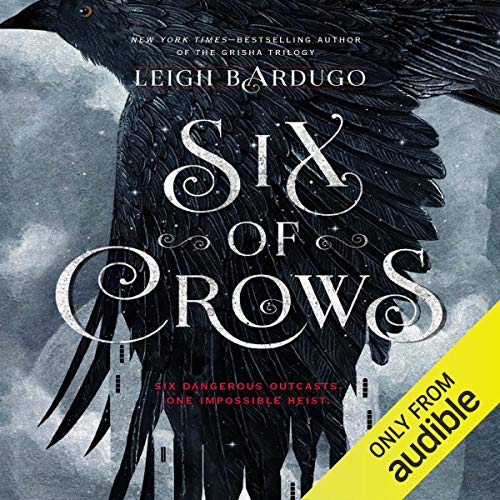 Review #1
Six of Crows full audiobook free
Why is it so hard to find good Adult Fantasy these days? I bought this book based on the amazing reviews, but I have to disagree with the other reviewers. I really thought that this book lacked so much. Instead of putting in the hard work of character development, the author just had all of the peripheral characters Tell you how to perceive one another. I can't tell you how many times I read "Kaz is so cold-hearted and ruthless, Kaz is so underhanded, Kaz is cruel and conniving."
I felt like I was being brainwashed from hearing it over and over again Instead of actually gleaning any character traits from Kaz's behavior or dialogue. It's lazy writing to tell characterization instead of show it through skilled story writing.
I think the author did a poor job of developing believable chemistry between the characters, and ultimately I did not care about the cast or the outcome of their journey. It's a two part series, with the Six of Crows fizzling out in what was Meant to be a cliff-hanger ending that left you longing for Book 2- but instead just left me feeling relieved that I could close this book and move on to a different, more skillful author.
Review #2
Six of Crows audiobook in series Six of Crows
This review does not reflect the story*
I am so upset, I received a book with a Netflix add thing PRINTED INTO THE COVER OF THE BOOK… I am a little obsessed with how my books look, the cover being one of the biggest parts. I dont want a book with some Netflix add printed into the cover… if it where a sticker i'd still be upset but at least a sticker would be removable. I am returning these immediately and as for the story I can not comment because I have not read it yet.
Review #3
Six of Crows audiobook by Leigh Bardugo
This book was described as Game of Thrones meets Ocean's Eleven in the blurb. It's kind of accurate in that the book is essentially a heist story in a fantasy setting. However it was definitely much more simplistic than the Game of Thrones series and also a YA novel. It definitely had it's fair share of violence though.
Overall I enjoyed this book – I liked the world-building that Leigh Bardugo did and the magic had clear rules and limitations, which is a plus. The characters were all pretty memorable and distinct, especially the main character Kaz. There wasn't a super clear villain, but more like a system that the characters were fighting against. I thought the dialogue was good and the pacing/plot was pretty steady, although I never really got fully invested in the overall story.
The narrative switched between different characters every chapter, and also alternated between current story events and flashbacks. Despite all the jumping around, the story was easy to follow and none of the character stories were boring.
I did think it was weird that all of the main characters were 15-17 years old. I knew this was YA going in, but the characters' ages didn't really fit with their mannerisms and backstories. They hardly ever acted or spoke like teenagers, and a lot of them had backstories that involved prison sentences, gambling addiction, slavery, training as a soldier, tragic romances, etc. It just seemed like it would make more sense for the characters to be a little bit older, and I'm not sure what having them be so young added to the story besides making the book more appealing to teenagers?
The other thing I really didn't like was that the book ended extremely abruptly. I knew this was part of a series, but it felt like there was absolutely no conclusion to the story. I turned the page after the end of a chapter and that was it! There are plenty of multi-book series that still manage to have a satisfying conclusion within each individual book.
Review #4
Six of Crows audio narrated by Jay Snyder Lauren Fortgang Roger Clark
After finishing Leigh Bardugos epic series, The Grisha Trilogy, I was sad to see it come to an end because it was so engaging and beautifully written and I knew I would miss the Darkling. Now Bardugo has come out with another series set in the same world, same time as the Grisha but with a whole new set of characters. And you know what? I hate to say this, it might even be considered blasphemy, but I found myself more engaged, more fascinated, more intrigued, and utterly in love with these new characters. And the story? It has more twists and set backs and game changing moments than any book I have ever read. Its intoxicating and fast-paced and you need to pay attention or youll miss Bardugos multiple sleight of hand tricks. Nothing is what it seems.
The Grisha Trilogy had the Darkling; mysterious power-hungry megalomaniac that he was, all readers agreed the man was sexy. In this series, we get Kaz; greedy, dangerous, deceptive Bastard of the Barrel that he is, despite all his faults and one very weird but ultimately understandable phobia, the man is criminally sexy. Emphasis on criminal, by the way. Hes the guy you make eye contact with in a dive bar who makes you shiver, but you know that taking him home would be one huge, but memorable, mistake.
Anyway, the story is all about the art of the con and is told from multiple viewpoints, which Bardugo expertly masters. Five con artists, led by Kaz, stand to make enough money to buy them out of whatever debt or indenture or brothel or sorry mess they call life if they pull off a most impossible heist. Keeping all the details of the plan close to his ever-present vest, Kaz hires a spy he calls The Wraith, a sharpshooter with a gambling problem, a Grisha Heartrender, a soldier who wants to kill the Grisha, and a rich kid with a penchant for explosives. Combining their various talents, they intend to break into the worlds most impenetrable prison and kidnap the scientist responsible for the dangerous drug that Ill just refer to as Grisha meth.
If all the main characters in Six of Crows werent teenagers, this would definitely read as adult fiction. I never regarded any of them on the same level as the pimply-faced immature high schoolers that run around in my house. All the characters have a hard luck story or monumental event that made them grow up fast. Throughout the book we learn their personal stories, some are incredibly sad and unfair. But, in the end, its what made them who they are: interesting, resilient, criminal and ultimately dangerous. Heartbreakers that they are, I fell in love with all of them.
A masterful storyteller and creative writer with a clever sense of humor, Bardugo is one of my favorite authors. As much as I adored The Grisha Trilogy, I absolutely love the dirty and gritty beauty of Six of Crows. And, I need to have the next book soon.
Review #5
free audio Six of Crows – in the audio player below
I can't remember the last time I read a book and fell so head-over-heels in love with an entire group of characters.
People have been recommending Six of Crows to me for a long time now. It's a book I've always meant to get to – who doesn't love a heist story? – but this year I finally sat back, opened it up and was sucked into the seedy underbelly of Leigh Bardugo's fantasy world.
As someone who hasn't read Bardugo's Grisha Trilogy this world was entirely new to me, and I loved it. 2018 feels like the year in which I'm rediscovering my first love, fantasy, after several years of being intimidated by it for a reason I still can't quite put my finger on, and Ketterdam has to be one of my favourite fantastical places now purely because Bardugo brings it to life so vividly.
While Ravka, which we hear of but don't go to in this book, seems to be a Russian-inspired country, there's no doubt in my mind that Ketterdam is a fantastical version of Amsterdam, with its waterways, merchant-run economy, and the entire districts whose cogs are kept whirring by a constant stream of gambling and prostitution. The Barrel, not at all dissimilar from Amsterdam's Red Light District, is ruled by gangs, and one gangster in particular has Ketterdam in his pocket.
Kaz Brekker is one of the most compelling protagonists I have come across in a fantasy novel in a long time. From the blurb I thought he would be very different to the kind of boy he is, but I love how Bardugo has imagined him; she straddles the line between 'criminal prodigy' and 'only a 17 year old' beautifully, creating a character who's had to grow up far too fast and has the dirt of the worst and best of humanity wedged under his fingernails. He's like that first sip of a bitter coffee in human form. It was also so refreshing to read about a protagonist who needs the assistance of a cane to walk and I'd like more protagonists like this please!
What makes Six of Crows really sing is its characters. The setting is brilliant and the plot is wonderful, but the characters are what make this book – dare I say it – perfect. Alongside Kaz we have his right-hand woman Inej Ghafa, who was stolen from her home and her family as a child and sold into human trafficking before she began working for the Dregs. Known as the Wraith, she's an expert at going undetected and is yet another example of Bardugo's wonderfully complex characters. Inej's faith is important to her and her morality is something she struggles with when she has essentially become Kaz's personal assassin, but how else is she supposed to survive in a land that sees her as a commodity that can be sold for profit?
I loved Bardugo's exploration of religion through Inej and through Matthias, another protagonist from Fjerda, the country next to Ravka, who has essentially been raised in a cult of witch hunters whose own religion teaches that Grisha aren't human. Like all six of the protagonists in Six of Crows, Matthias has found himself washed up in Ketterdam by accident, beginning the novel in prison thanks to a Grisha, Nina, who serves as another protagonist. I'll be saying this for all of them, but I loved Nina, too. A child soldier from Ravka, she was forced to work with Matthias, a boy trained to kill her, after the ship they were on sank and they found their way to Ketterdam. Nina is bubbly and vivacious and loves food – who doesn't? – and I particularly loved her friendship with Inej. There's no competition between them, just the utmost affection and respect and when I say I want more female friendships this is what I mean.
Then we have Jesper Fahey, another member of the Dregs who loves gambling and guns a little too much, but another character who is complex and, though flawed, incredibly loyal to Kaz. I adored his sense of humour and his shameless bisexuality. Finally there's Wylan, a boy with a knack for explosives and keeping secrets. He's the kind of character that grows on you as the story progresses, and once you get to know him you can't help but love him.
Six of Crows works because each of its protagonists are fleshed out and such fun to follow separately, but they also have brilliant chemistry as a group, too, which is for the best considering they have to rely on each other to pull off a heist that's believed to be impossible. Kaz makes a deal with one of Ketterdam's merchants to break into the Fjerdan Ice Court – a place that has never been breached – and smuggle out a prisoner associated with a drug that, when used on Grisha, turns them into unstoppable weapons who crave the drug more and more and eventually die as nothing more than husks of their previous selves.
Kaz doesn't take on this mission out of the goodness of his heart to liberate the Grisha who are being mistreated or to bring order back to the world of the merchants, he takes on the mission because each of them will be rewarded with an inordinate amount of money that will pay off their individual debts and set them up comfortably for life. What ensues is a twisty, turny heist story that keeps you guessing at every turn and makes you genuinely worry for the characters' safety. I love that Bardugo doesn't make this story safe. Kaz has a plan and his plan has a plan, but when things go wrong – and they really do – these kids are forced to improvise if they're going to live to claim their reward.
It's been a few months now since I finished this book and I'm still thinking about it. The plotting and character development is exquisite. I fell for this book and these characters and this world so hard, and it's safe to say that this duology is now one of my all-time favourite series and this book has definitely earned a spot on my favourite books of all-time list. It was such fun to read, and it reignited not only my love for fantasy but also my love for YA done well. I escaped into a different world where all the threats and the tears and the love and the smiles felt real, and I will be gushing about it for a long time. And I'm not sorry.
Galaxyaudiobook Member Benefit
- Able to comment
- List watched audiobooks
- List favorite audiobooks
---
GalaxyAudiobook audio player
If you see any issue, please report to [email protected] , we will fix it as soon as possible .

---