Children of Ash and Elm: A History of the Vikings audiobook
Hi, are you looking for Children of Ash and Elm: A History of the Vikings audiobook? If yes, you are in the right place! ✅ scroll down to Audio player section bellow, you will find the audio of this book. Right below are top 5 reviews and comments from audiences for this book. Hope you love it!!!.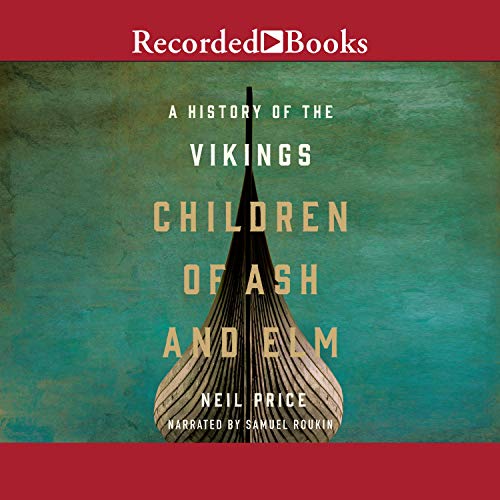 Review #1
Children of Ash and Elm: A History of the Vikings audiobook free
Wonderful read, full of insights into Viking life that not only bring their culture to life, but are more in-depth than I've seen before. Tries to gain insight into the causes that contributed to their culture. If you want a good picture into the culture as well as the history, this book is immersive.
But at one point it raised a huge red flag, in that it does contradict most other scholars on some key points and most notably…it contradicts some of what the Vikings had to say about themselves in their eddas and laws.
For example, we know that Viking laws prohibited the wearing of clothing of the opposite sex. A man could be fined or divorced if he wore clothes that were too effeminate. There is no question these laws existed; they were written about and this record is accepted by all other scholars.
Since they were so strict about gendered clothing, to the point of specifically making laws to prohibit it, for the author to 'guess' that vikings may have accepted the wholly modern idea of transgenderism is fictional hubris. That critically flawed 'guess' tainted the rest of the book for me, since the book contains other information we have not seen from other Norse scholars…then perhaps some of these other new insights are also fiction.
The Vikings had additional laws that made it lawful to kill someone who insulted a man in a way that implied he was used as a woman for the purposes of sex. It WAS the Viking's most egregious insult…to insinuate homosexual bottoming for sex…and earned you death. Any such bottomers were literally the bottom dregs of society; enemies or slaves, and not 'men'. 'Lawful murder of', and 'acceptance of', share no overlapping space on a Venn diagram. To say otherwise is imagination at work once more.
With this book, scholars and researchers seem to have lost their objectivity. Is that a trend for the future? This book may be a harbinger that marks a sea change for researchers…in that they no longer see a need to interpret an ancient culture through its own lens…or at the very least, an objective lens…but instead will modern-morphize ancient cultures by interpreting them through the ever-more-skewed lens of modern politics.
Verdict: read and enjoy— but with the caveat that you'll also have to read other reference books on Viking culture and history, and take the word of the Vikings themselves first wherever there are any contradictions made by a modern author
Review #2
Children of Ash and Elm: A History of the Vikings audiobook streamming online
Absolutely great first couple of chapters. Succeeds in the mission of portraying Vikings as they saw themselves rather than how later observers see them, which was the basic premise.
Then, "how later observers see them" creeps in nonetheless. We are inflicted with points of view about gender fluidity and same sex couples. In a Viking book. They are Vikings in the 800-1000 AD period. Not known as a tolerant lot.
Also quite anti-Christian, keeping up with the current fashion in academia. The transformation by Christianity is shown more or less as a blight on a pristine culture. No matter that the pagan funerals involved gang rape by elders of teen girls and human sacrifice. Christianity was somehow worse.
And he throws in random conclusions with no references. Such as "In Scotland and the Isles, the transition to a medieval economy should really be placed in the late thirteenth century, mainly on the grounds of changes in the fishing industry and a serious shift to a deep-water catch." (p. 497 hard bound) Really? or was it the UFOs?
Overall a good effort but better if it would keep to historic accuracy with less guessing and pontification.
Review #3
Audiobook Children of Ash and Elm: A History of the Vikings by Neil Price
Made it to page 4 before the author needed to virtue signal his anti-racist, anti-nazi viewpoints. Couldnt just write the History book without pandering to that crowd. The rest of the book was quite dull and not what the title itself claims to be, as its mostly a history of SOME of the vikings.
Review #4
Audio Children of Ash and Elm: A History of the Vikings narrated by Samuel Roukin
Children of Ash and Elm: A History of the Vikings by Neil Price is a very highly recommended history and examination of the Viking Age, from 750 to 1050. This is a comprehensive history of the Vikings in which Price looks at who they really were as a people, how they viewed themselves rather than how other cultures defined them. They would not have recognized or identified themselves as "Vikings." In the past many histories that give a history of the Vikings view them through the eyes of another culture, and usually with the result of placing the contact culture in the positive light and the Vikings in a negative light. Price presents a more equitable picture. He draws on historical records, discoveries made at archaeological digs and burial sites across Europe, and the historical observations made by those who had contact with them at the time.
"The emphasis here is very firmly on who the Vikings really were, what made them tick, how they thought and felt. Their dramatic expansion will not be ignored, of course, but its context, its origins, are at the core of what follows. Where better to begin, then, than with the creation itself? The tale of the gods fashioning the first humans from stumps of wood, on the shores of the world ocean, has roots that extend very deeply into Norse mythology. For all the fearful confusion about their identity among those they encountered, in the Vikings own minds there was never any doubt at all: they were the children of Ash, the children of Elm."
The comprehensive history is divided into three parts.
"The first part explores this realm through the Vikings sense of self, and of their environment, and begins by delineating the contours of its landscape both on the ground and inside their heads. It explores their unique understandings of personhood, gender, and the place of the individual in the many dimensions of the cosmos. This also involves meeting the other beings with whom the Vikings shared these spaces."
"The second part goes back to the early 700s, but follows a different path to seek the major sociopolitical developments and demographic factors that slowly combined to trigger the Viking phenomenon itself. This was the time of the raids and their gradual escalation from isolated attacks to invasions of conquest, in the ever-present context of expanding trade networks. The maritime culture of Scandinavia, the rise of the sea-kings, and the development of uniquely mobile pirate polities are the focus here. The beginnings of the diaspora can be traced in all directions…"
"Part three moves the story to the mid-eleventh century, as the Viking phenomenon diversified across the northern world. Its consequences included an urban revolution in the Scandinavian economies and the reorganization of the countryside, paralleled by the consolidation of royal power and the rising influence of a new faith." Viking cities and power bases were established across the world at this time. The idea of separate identities of Norway, Denmark, and Sweden began and they started becoming a part of Christian Europe.
I have literally pages of notes from reading Children of Ash and Elm. Certainly I can't share everything, but I would encourage anyone who is interested in an equitable history of the Vikings to read Children of Ash and Elm. I was engrossed in the whole book and all the finds and research Price includes. It is a fascinating and extensive examination of the Vikings, children of the great ash tree Yggdrasill, their culture, explorations and sweeping travels. The final publication will include a 16 page color insert, maps, chapter notes, references, and index.
Disclosure: My review copy was courtesy of Basic Books.
Review #5
Free audio Children of Ash and Elm: A History of the Vikings – in the audio player below
One would imagine that, in a history of the Vikings, a chapter entitled 'Border Crossings' might be about… what… invading France? Raiding Ireland and England, maybe? But no, in this book it's about the author's attempts to 'recover Viking-Age queerness.'
Fine, if that's what you want to read about, but really, give the rest of us who aren't interested in saving the Valkyries from the 'male gaze' or learning how 'our preferred forms of address… acknowledges and empowers who we each feel ourselves to be…' some kind of warning so we don't waste our money.
---
Galaxyaudiobook Member Benefit
- Able to comment
- List watched audiobooks
- List favorite audiobooks
---
Galaxy audio player
If the audio player does not work, please report to us, we will fix it as soon as possible (scroll up a little you will find the "REPORT CONTENT" button).
Audio player is currently down for maintenance (may be 2 hours), please wait... or come back later.
Hi guys, thank you so much for your reports about the audio player issues. We have read all of them, the audio player works fine now. Please reload the website and play audio again.
Hi everyone, please be noticed that the Audio player doesn't play next track on IOS version < 15.6. If you are facing that issue, just upgrade your IOS to version 15.6 to fix it. Enjoy!
Listen to this audio by click "Open Audio Player (new version)" (Please wait 6 Seconds and then open "Audio Player" in new tab).