Sky in the Deep (Sky in the Deep) audiobook
Hi, are you looking for Sky in the Deep (Sky in the Deep) audiobook? If yes, you are in the right place! ✅ scroll down to Audio player section bellow, you will find the audio of this book. Right below are top 5 reviews and comments from audiences for this book. Hope you love it!!!.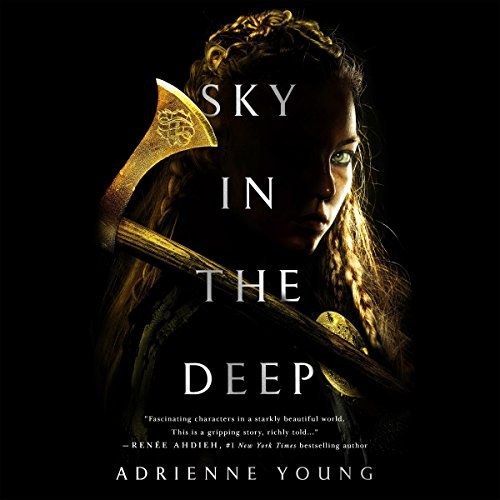 Review #1
Sky in the Deep (Sky in the Deep) audiobook free
Fierce. Romantic. Spellbinding. Sky In The Deep is everything I've been looking for in a Viking-esque story and so much more! You need this book in your life, people. What I LOVED: Eelyn is every bit the bada** warrior the cover and summary leads readers to believe which is incredibly satisfying. She is the perfect blend of brawn, brains, and heart, much the way Diana Prince is in Wonder Woman. Her ferocity isn\'t the result of abuse or trauma, but is born of a deep sense of pride in herself, her family, her clan, and her beliefs. I loved her. I wanted to be her. And I definitely want Eelyn on my side should I ever find myself in a battle because let\'s be real, I wouldn\'t last 5 seconds. Because blood and guts and eyeballs. *shudders* There are great examples of family, loyalty, and friendship (both old and new) woven throughout as well as respect, and the romance that bloomed was hard-won and swoonworthy. What Left Me Wanting More: Absolutely nothing! Sky In The Deep is the kind of story you hate to see end, with characters you want to hold onto forever (I\'m looking at you, Fiske) but even when it is over, you\'re left happy and content. And maybe even a little eager to go back and experience it all again. Final Verdict: Read it.
Review #2
Sky in the Deep (Sky in the Deep) audiobook streamming online
Full review and more on readandwander(dot)com I received this book for free from Netgalley and the publisher in exchange for an honest review. This does not affect my opinion of the book or the content of my review. My Thoughts Sky in the Deep was stunning. Rating: 4.5 of 5 My useless music knowledge is vast but my Viking knowledge is zilch. So it took a few chapters to get into Sky in the Deep since it made zero sense that people would hate each other just because the Gods said. But then something reached out of the book and latched onto my heart. Books can absolutely grip me emotionally (more so now that I\'m a mom cause – hormones) but it is a rare story that creates such an emotional connection that it embeds itself physically as well. There were times when reading Sky in the Deep that I felt that ache in my chest and the acidic nervousness in my stomach. That same ache I get when I think about having to say another good-bye \'see you later\' to my husband for another deployment or the loss of someone close to me. At its heart, Sky in the Deep is a story about love and humanity. While there is a touch of romance, I feel that the bigger message was the love of family in its many beautiful forms. When Eelyn learns her brother is alive, she struggles with dissonance between the hate she has known her whole life for the Riki Tribe and the fierce love she has for her brother. Her growth over the course of the story is as beautiful as she is brutally fierce. And man is she a fierce warrior. Seriously. Bad.ass. Another message I loved about Sky in the Deep is the challenge to lean into your discomfort and face the the possibility that the \'truths\' we have been taught may not be as accurate as we believe. That maybe, we really are not so different from one another. That maybe, at the end of the day we all just want our communities and loved ones to be safe. Overall Sky in the Deep was full of action and even more surprisingly, full of emotion. My heart ached, melted and pulsed with anger at times. I also cried, laughed and sat back in shock. It was an amazing ride. However, the more I type the more likely I am to spoil something so I just want to say – PICK SKY IN THE DEEP UP!
Review #3
Audiobook Sky in the Deep (Sky in the Deep) by Adrienne Young
SO THIS BOOK WAS PROBABLY ONE OF THE MOST HYPED OF 2018 THAT I KNEW I WOULD HAVE TO READ THE MINUTE I HEARD ABOUT. Compared to Vikings and Wonderwoman with that gorgeous dark cover and the promise of a forbidden romance? HOW ABSOLUTELY BREATH-TAKING DOES THAT SOUND? And, from all the hype around the internet and the hype I created for myself, I DIDN'T END UP LOVING IT AS MUCH AS I HOPED I WOULD. Not that I didn't like it, because I did. The book was powerful in a lot of ways and the romance was enjoyable, but I just felt removed/ didn't connect with the book as much as I wished I would. I guess, in a nutshell, I was hoping this book would be a new favourite, but it turned out that it was just one of the many. THINGS I LIKED: 1. THE COVER: Yes, hello, please let's talk about that MARVEL of a cover that caught my eye and hasn't let it go till date. Also, there's an inscription when you open the dust jacket of the book that says 'Breathe Fire,' and if that isn't the COOLEST THING EVER, I don't know what is. 2. THE WRITING: Even as a debut author, Adrienne Young had this unique way of storytelling and her writing was poignant as she wrote about a harsh world and, well, I really loved it. I read her book in just three days and I can't wait for the next one. 3. THE RIKI: I actually fell in love with certain members of the rival to Eelyn's clan, the Riki, namely Inge, Fiske and Halvard. I wish we saw more of Runa, Kerling and Gyda and ESPECIALLY Iri, but I did love the Riki. THINGS I WISH HAD BEEN BETTER: 1. IRI: A brother our main character thought was dead because SHE LET HIM GO during war is REALLY ALIVE AND LIVING WITH A RIVAL CLAN? I felt like this was such a brilliant part to the storyline and yet, I saw nothing of Iri and Eelyn reconnecting or even being siblings. All I got in the end was a measly line of about how 'it would have to be worked on' and I was honestly QUITE DISAPPOINTED. 2. REALLY, I DON'T KNOW WHAT ELSE BUT STILL: Like I said before, there was something that stopped me from FALLING IN LOVE that I can't name till date. It just didn't get my fangirl side fangirling or my hopes raised. Will I read more from Adrienne Young? DEFINITELY. An enjoyable read with poignant writing in a harsh world + a forbidden romance. I'd definitely recommend it, even though it wasn't the BEST fantasy I've read.
Review #4
Audio Sky in the Deep (Sky in the Deep) narrated by Khristine Hvam
I love finding a book that draws you in and doesn't let you go until the last page. Sky in the Deep is that kind of book! I'm a massive fan of the myth and legend tales, and the Norse Gods, sagas, Viking battles, and axe-wielding warriors hold a special place in my heart. Sky in the Deep is told from Eelyn's point of view; a seventeen-year-old warrior with two fighting seasons under her belt. She's hard, passionate, and fiercely loyal to her clan. When she discovers her brother is still alive and living with their rival clan, Eelyn's world is broken apart. She is taken as a prisoner; her brother's new family try to keep her safe until their entire village is attacked. Everything shifts and Eelyn must learn to trust the enemy. Underneath the violence, fear, and fast-paced action is a beautiful coming-of-age story. I love Eelyn; she's a fierce soul with a caring heart. The other characters: Fiske and Iri, Halvard and Inge, Aghi and Myra are all well-crafted. Young's story development is terrific, and she paints a gripping picture as you follow this young warrior's painful journey through this stunning setting, easily visualising the fjord and the mountain village. I didn't want this book to end as I loved being a part of Eelyn's world. Would highly recommend Sky in the Deep if you're looking for a vivid debut that stays with you long after you finish reading.
Review #5
Free audio Sky in the Deep (Sky in the Deep) – in the audio player below
I knew I had to read Sky in the Deep by Adrienne Young the minute I saw the cover. When I discovered it was about a young female warrior, I had to read it even more. Thankfully I was granted an advance copy, and while I couldn't get to it right away, I devoured it as quickly as possible. I must say, I'm really enjoying the vicious bite women characters are taking on these days. I've long been a fan of female driven books, of course, but it seems like lately, our women are taking things one step further and showing a gritty ruthlessness that has never been this apparent before. Eelyn is the perfect example of that; a warrior, raised on the notion of honour over life, she is tough as nails, fighting alongside the men, and often speaking about crushing someone's skull in. The other female characters are also fierce, and I enjoyed the dynamic that was built between them all. In fact, all the characters were great. There was a broad range of characters who all played their parts, but I really enjoyed that the bottom line of this story was the bond and loss between a brother and a sister. It wasn't a love story at it's core, though they each have their own tangents that involve that, but what drives the book is family and loyalty and that sibling bond, be it by blood or soul. I really enjoyed this. The book is somewhat gritty at times, too. The fighting scenes aren't sugar coated, there is carnage and blood and vivid descriptions of the scene as it unfolds. it's not overly gratuitous, but it's realistic and I loved that Young didn't hold back. Eelyn throws herself totally into battle, making her one of the strongest, rawest characters I've seen in a long time. Sure, she ends up finding love, but she doesn't spend her moments in battle worrying or longing for her beloved, she does her duty, she does her job, and then she worries about everything else. You don't see that too often, love often tends to blur the lines and get in the way of those kinds of loyalties, so I love that Young went in this direction. Frankly, I loved everything about this story. The structure of it is expected and it doesn't take any unexpected turns, but the bonds are strong and the characters are well groomed. It moves along at a really quick pace, there's no long drawn out journey in between, the important points are met and the journey is touched upon, but nothing is overly drawn out so the momentum never loses its pace. I really enjoyed each page, each chapter, and I'd give anything for a little more. I don't know if there's an intended sequel, it doesn't really feel like there is much more to go on after this and while I love the characters, I wouldn't want to see it drawn out into something more just because. But I'll tell you this, whatever Young puts out next, I'm going to be first in line to read it. What a brutally beautiful debut. More please.
Galaxy audio player
If the audio player does not work, please report to us, we will fix it as soon as possible (scroll up a little you will find the "REPORT CONTENT" button).
Audio player is currently down for maintenance (may be 2 hours), please wait... or come back later.
Hi guys, thank you so much for your reports about the audio player issues. We have read all of them, the audio player works fine now. Please reload the website and play audio again.