Angle of Investigation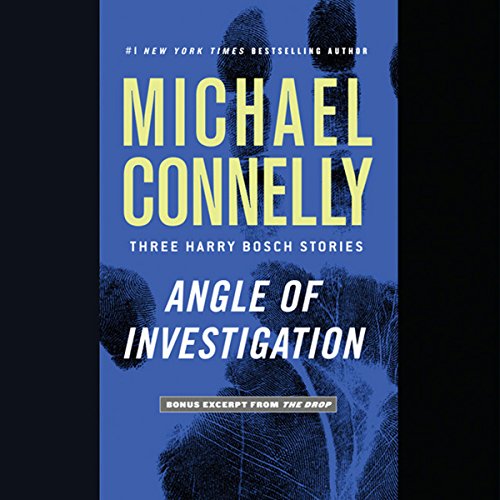 Review #1
Angle of Investigation audiobook free
As police procedural authors go, it's hard to think of a more reliable or interesting one than Michael Connelly, who has been writing about Harry Bosch for more than twenty years at this point. Connelly's novels are fascinating not just as mystery stories, but as snapshots of time – they're uniquely contemporary, reflecting concerns of the time, and letting Bosch and the other characters age in "real time", more or less. His short stories, by definition, aren't as complex, and feel a bit less linked to their time and place; that doesn't, however, make them less engaging to read, just somewhat less rich.
Connelly's Angle of Investigation, then, is interesting partially just for how its three stories ran the gamut of possibilities for Connelly's Bosch stories, in all sorts of ways – focus, approach, scale, and even quality. For instance, one story, "Christmas Even," walks us through the mechanics of a murder investigation; the second, "Father's Day," mainly revolves around Bosch's skills in the interrogation room; the third, the title story, follows Bosch using his years of experience to unravel a cold case with only one real lead. It all serves as a nice triptych of Bosch's skills, and a sort of mosaic that presents his strengths. More than that, each gets into a different aspect of Bosch's life: "Christmas Even" explores his isolation and love of jazz, "Father's Day" gets into his relationship with his daughter (a bit), and "Angle of Investigation" gets into his history on the police force.
It's the quality of each story, though, that tells you the most about them. "Christmas Even" is far and away the best of the three: it features the most compelling case, the most involved narrative, the best emotional beats for Bosch, and the most satisfying narrative that ties it all together. "Father's Day" isn't bad at all, though; the interrogation scene is riveting work, and a testament to Connelly's gift for listening as cops work their magic to get a confession that they know is coming – it's just that the Bosch emotional beats aren't as strong. As for "Angle of Investigation," it's…fine, I suppose, as long as you can get past the least interesting story by far and a narrative that feels thrown together and barely holds up. There's a great hook there, with Bosch being asked to revisit the first dead body he ever found on the force, but the story we get is weak, and far from Connelly's usual careful work. Nonetheless, it's a collection well worth reading, especially for fans; you have two really great ones, and even "Angle of Investigation" is intriguing for its window into a young Harry Bosch, fresh on the beat.
Review #2
Angle of Investigation audiobook Series A Harry Bosch Novel
ANGLE OF INVESTIGATION by Michael Connelly stars our hero, Harry Bosch, in three short mysteries.
"Christmas Eve" is a story that starts with finding the body of a man on the floor of a pawnshop following an early morning burglary. The investigation led by Bosch accidentally uncovers a stolen saxophone that whisks his mind back to his Vietnam combat days and a Christmas Eve decades earlier. This story is Connelly at his best. Maybe he should stick with short mysteries–the story is a winner. It touched my heart and brought back memories of a Christmas I spent in Vietnam 46 years ago.
"Father's Day" is a story about a father of a 15-month-old handicapped son left in the family vehicle on a warm day. Bosch's masterful interrogation techniques ferret out the truth and bring to mind thoughts of his own daughter.
The third story, "Angle of Investigation", begins when Bosch returns from Vietnam and starts his career as a rookie LAPD cop. On one of his first assignments he and his partner are called to a house to investigate a missing person. They discover a woman and her dog floating in a bathtub. It's clear that they had been murdered but the crime was never solved. Three decades later, Bosch, now a senior homicide detective is assigned to the newly formed Cold Case Division that investigates unsolved murders. He and his new partner, Kiz Rider, get the case dropped in their laps. The story is well written with a surprise ending.
As for icing on the cake, the book previews Connelly's forthcoming novel, "Gods of Guilt." The story features our old friend, defense lawyer, and Lincoln car lover, Mickey Haller. Based on the preview, I can't wait to read the full-length version due out in December 2013.
If you have a long lunch break or are waiting in an airport, "Angle of Investigation" is a great read. You won't be disappointed. I give it a topnotch rating of 5.
Review #3
Audiobook Angle of Investigation by Michael Connelly
This collection of short stories spans the career of Hieronymus "Harry" Bosch with the Los Angeles Police Department. One of them offers an entertaining insight into his second day off the force, as a rookie in uniform, when he and his mentoring partner discovered the body of a middle aged woman who had been bound and then drowned in her own bath, along with her pet dog. That investigation was immediately turned over to the Homicide Division, and Bosch had no further involvement. However, more than thirty years later, after having retired and then been re-recruited to work on cold cases, that death (still unresolved) is still playing on his mind. A potential new lead is found and sets Bosch off on a completely new angle. The other two stories are equally engaging, and resonate with all the characteristics that we have come to savour when Bosch is involved.
I am not generally keen on short stories, feeling that all too often one has no sooner fully engaged with the emerging scenario and characters than it is all over. These stories, however, work excellently. Connelly's spare writing style is as well suited to the shorter format as it is to the novel, and the short stories offer Connelly the opportunity to fill in some of the gaps in Bosch's life.
Review #4
Audio Angle of Investigation narrated by Len Cariou
I had been recommended by a friend to read Michael Connelly as I had said that I enjoy Harlen Cobden books. I choose this collection of three stories as I thought it would be good introduction to him and I can say that I was not disappointed. Although only short stories they were long enough to get the feel of the main character of Harry Bosch and were a great taster for what I imagine his longer novels are like. The stories moved at a great pace that meant they were hard to part down with enough going on on each page that keeps the reader interested. If you have not read Michael Connelly books before like me I would recommend this collection and I will definitely be reading more novels by this author.
Review #5
Free audio Angle of Investigation – in the audio player below
I love Michael Connolly books, I've read them all. I was disappointed by this book which contained three very short stories. I still love his writing but this was a small offering.
Galaxyaudiobook Member Benefit
- Able to comment
- List watched audiobooks
- List favorite audiobooks
---
GalaxyAudiobook audio player
If you see any issue, please report to [email protected] , we will fix it as soon as possible .

---