Dance with the Devil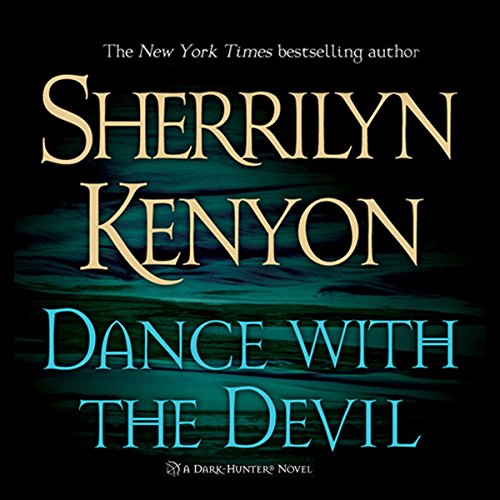 Review #1
Dance with the Devil audiobook free
For all of you, who still don't know it, DWTD is the 4th installment in the Dark Hunters (DH) series of Ms Kenyon.
Zarek is not the baddest, but certainly the maddest of all Dark Hunters. He has been banned to Alaska for the last 900 years, where he has had very little interaction with people…or living beings for tha matter (unless you count the hunt for his dinner). He lives in very small confinments and has a temper from hell.
Artemis decides that after a little incident in New Orleans (which occurs in Night Embrace) she is goign to get rid of Zarek permanently. Fortunatetly for Zarek, Ash (the DH's leader) is not about to let one of his DH's to go down with out a fair trial just because of the frivolous whims of a goddess. So he calls Astrid who is a justice nymph. Acheron and Astrid arrange everything and Zarek ends up almost dead at Astrid's house steps. Let the trial begin.
Astrid is now blind (justice is blind) and trying to get to know Zarek (no easy task with such a "sunny" attitude). But she is determined, if not for him, for Ash, to unearth the truth of Zarek's actions and attitude.
Little by little Astrid learns about Zarek's life before he became a DH. How he was a whipping boy utilized by his own father. How he never had anyone to claim as his own and all the damage a previous life had caused to a young man. And even, how other DH's judge him based on a crime Zarek can't even remeber. But Zarek is not ready to leave all that baggage out the door and have a happy life…with Astrid.
Every time Astrid learns something new about Zarek she falls deeply in love with him and she finds out who truly is. All the potential he has. Of course no love story is easy, so a little side dish is offered. A major Daimon…or actually a Day-Dark-Hunter enters the picture. This guy is mean and bad. Even worst, he's hunting Zarek down for a personal vendetta (the little crime our hero can't remember). Although he is hateable from the begining, as the book goes further we understand his motivation and his drive to seek justice any way he can.
The story is fantastic, well paced, touching and funny. In short is Sherrilyn Kenyon at her best. SO far this is my favorite DH novel and I can't wait to get my hands on the upcoming books (too bad I have to wait til next year).
SK has a wonderful talent of not only creating facinating worlds and wonderful storytelling, she also creates fallen heros like no one else. Sympathizing with them is as easy as breathing.
I would give it a 5 stars but I found that there were some pieces left unexplained. I have a feeling the author did it on purpose and will cover this in future books, but I still felt like I needed to know everything about Zarek.
Review #2
Dance with the Devil audiobook Series Dark-Hunter
Zarek's story has long been one of my favorites. I remember the first time I read this series that it was his book that turned me from someone who liked the series to someone who LOVED the series. His past just KILLS me. We learn things about Acheron that makes my heart ache. We get to see more of the tangled threads that weave the gods and mortals together. We get to meet Simi, the charming, irreverant Charonte demon that Ash loves like a child. Simi's musings on barbequing her enemies gave me a case of the giggles. There's just SO MUCH going on here. SO MUCH!
My love for heroes who have been sorely abused, mistreated, neglected, and otherwise have had a s*** life continues. Zarek is so prickly most people avoid him like the plague. Ash's musings on why Z is quick to lash out hurt. He hasn't known an ounce of compassion in his life — just like Ash — and he hurts others because it's the only thing that's a constant for him. He's another one that I just want to give cookies and hugs to. Poor Z. Poor, poor Z. I felt for Astrid, too. She's forced to lie to Zarek about who she is and the more she learns about Z, the more she knows that her lies will hurt him when he finds out the truth. It's a sticky situation.
Seriously, I adore the threads of the overall arc that are being revealed. It's big and it's just going to get bigger. As a reread, I think I enjoyed this as much as I did before simply because I like seeing all the groundwork being laid for later stories. This series is huge and a little intimidating and I'm a little in awe of Sherrilyn Kenyon's storytelling abilities.
Review #3
Audiobook Dance with the Devil by Fred Berman
This is the fourth book in the series and features the Dark Hunter Zarek and Astrid. Zarek makes out like he doesn't care about anyone or anything but we have already seen in Night Embrace that this is all basically just a front. Banished to Alaska hundreds of years ago following an incident that sees him shunned by his fellow Dark Hunter's (who all think he is an insane psycho) he has lived out most of his life alone, cold and lonely with only the nightmares of his human life and the bitterness of his death for company. Following the incidents of the Mardi Gras, Artemis wants his dead however Acheron (leader of the Dark Hunter's) manages to seek a reprieve when they agree to let him be judged by a Justice Nymph who has never found anyone not guilty – Astrid. Astrid manages to gain Zareks trust and through visiting his dreams with the help of one of the Dream Hunters we finally see why Zarek is how he is and who wouldn't be after the abuse and mistreatment he received as a slave for his own family in ancient Rome. We then just wait to see if Astrid will find him guilty or not….. I absolutely loved this book, I loved the depth of emotions and thought that had gone into Zareks 'back story' and what girl doesn't like what seems like a little bit of a lost cause?
It took me quite a while to get around to discovering this series as when you look up Sherrilyn Kenyon on Amazon and these books in list order it actually shows Dragonswan as being the first book (but it's not) and Dragonswan is never ever available to buy! As a girl who likes to read all books in a series and most definitely the first one in a series, thinking that I couldn't get the first book did actually stop me starting the series. I have only just discovered that the first book is actually Fantasy Lover, read this and have now proceeded to order the rest of the series:) Sherrilyn has now joined the ranks on Gena Showalter and Kresley Cole on my favourite authors list and I can't wait to read the next one.
Review #4
Audio Mate Bond narrated by Sherrilyn Kenyon
This was the first book I have read by Kenyon, which might account for why I didn't find the plot overused like some other reviewers. I was expecting this to be text book 'J.R Ward' type fiction but was pleasantly surprised. The author created well developed characters and Zarek especially was complex enough to be believable (as much as you can believe in a couple of thousand years old dark hunter that is). I also really liked that he never lost his prickly, defensive nature and it's only right at the very end that he begins to soften. Many books leave you wondering what happened to the bad ass by the end but that didn't happen at all, I think Zarek is probably one of my favourite male leads.
Astrid was likeable enough too, although I was suspicious of how much she was able to do when 'completely' blind, maybe she has done it so long she's learned to cope amazingly well so I won't nit pick.
The plot itself was rather amazing, I loved the historical elements of the Dark hunter's pasts but there was plenty of action to keep a reader occupied. I won't say too much as I don't want to ruin things.
However, like everyone else I just wished this author had bothered to reread her work, the contradictions aren't annoying but are still noticeable and I found it a bit of a disgrace considering I paid decent money for this book. This isn't a 72p kindle download so I hope that kind of stupid mistake gets fixed in future books. But I have already bought another book in this series, so hopefully it will be as good! Highly recommended, four stars!
Review #5
Free audio Dance with the Devil – in the audio player below
Again, another book that I really liked but which doesn't warrant any higher than a 3 star rating because of the quality.
I think, in this instance, Zarek was a little bit too tortured. And the thing with the circumstances under which he was banished, and the one about the circumstances under which Artemis made him a Dark-Hunter are riddled with plot holes which really affected the quality of the story.
Kenyon is disappointingly inconsistent. Sometimes her pacing is spot on and then other times the plot and pacing go off on one and it's jarring. It's a shame. So much potential for these books – but despite the faults, they're still extremely entertaining reads.
By the way, has anyone else picked up the parallels between this series and the Black Dagger Brotherhood Collection series? They share a lot of similarities …
Play all audiobooks Best Fiction audiobooks Best Non-fiction audiobooks Best Romance audiobooks Best audiobooks
---
Galaxyaudiobook Member Benefit
- Able to comment
- List watched audiobooks
- List favorite audiobooks
---
GalaxyAudiobook audio player
If you see any issue, please report to [email protected] , we will fix it as soon as possible .

Hi, the "Bookmark" button above only works for the Audio Player, if you want to do browser bookmark please read this post: How to bookmark.