Hero (Woodcutter Sisters #2) audiobook
Hi, are you looking for Hero (Woodcutter Sisters #2) audiobook? If yes, you are in the right place! ✅ scroll down to Audio player section bellow, you will find the audio of this book. Right below are top 5 reviews and comments from audiences for this book. Hope you love it!!!.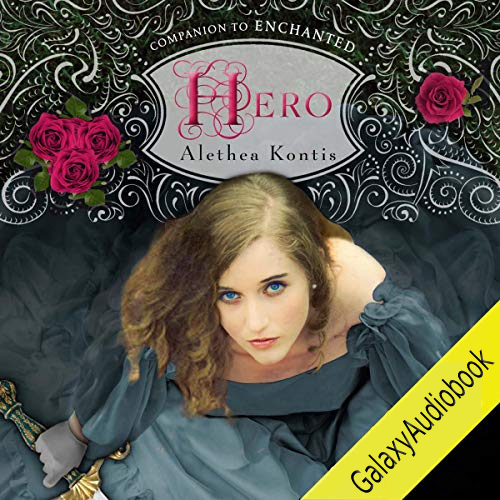 Review #1
Hero (Woodcutter Sisters #2) audiobook free
4.5 stars
I love fairy tales. I love them as originals and retellings in just about every setting, as long as they're written well, of course. I fell in love with Enchanted, the first book in this series, last year. I was definitely ready to hang out with the Woodcutter family again in Hero.
I do have to say that this second book definitely has a different feel to it than the first one did. It is a little more serious and the ending was more open. Of course, that just means I am highly anticipating the next book even more. 🙂
It took me a little bit to remember who each of Saturday's sisters and brothers were. We see or hear about all of them at one point or another. Even though I didn't remember specifics, I didn't mind because I enjoyed getting to know them again. Most of the times when they appeared in the story were for very short periods of time, but Alethea did such a great job in conveying each of their characters really well in those small moments. This story is really all about Saturday, as it should be.
Saturday is such a great character! She is struggling with figuring out her place in the world and who exactly she is. Her life drastically changed after her sister saved the kingdom in the last book. She's not sure how she fits in this new world and she's tired of being treated as the little sister. I loved that she isn't dramatic, but rather sarcastic. She finds out that she is much more than she thought she was. I also really loved Peregrine! He is a little awkward under the circumstances in some ways, although he has become used to his skin after wearing it for so long. He has a role he must play and he is willing to do it in order to survive. The interactions between these two were fabulous! I loved how Saturday didn't want anything to do with him and how he got under her skin. I loved Saturday's thoughts here:
To Saturday, falling in love was a nonsense never hoped for. Love and marriage and family would mean the end of her adventuring. She had only just begun to live her life outside the towerhouse. So far, that life had been full of swords and witches and life-or-death decisions. Kissing had no place there.
And yet, Saturday couldn't bring to mind a tale about Jack in which he's banished evil or bested a beast without winning the heart of some girl in the end. Saturday sighed. Did romance have to be a part of the adventure? It just seemed so unnecessary and distracting.
(p. 151-152)
I loved the plot! It was unexpected in many ways and entertaining. I love how Alethea continues to include pieces and references to other fairy tales. She is quite creative. The story felt to me like it should – like a girl thrown into an adventure that she really has no control over, but chooses to be the hero even if she doesn't think she is one.
If you enjoy reading fairy tales or a very creative twist on them, then definitely pick this up!
Content: Clean (There are a few references to the characters being unclothed and a few mild swear words, but nothing that would make this not clean.)
Source: From tour host/NetGalley, which did not affect my review in any way.
Review #2
Hero (Woodcutter Sisters #2) audiobook streamming online
Hero is the second story in the Woodcutter series is a tale of Saturday Woodcutter. I was so excited to get this book in the mail that I stayed up all night reading it. Saturday has a temper tantrum and breaks the world! The ocean surges to places it's never been, pirate ships dock where they shouldn't, a flight to the top of the world are just the tip of the ice burg in the adventure. Cross dressing, gender swapping and gender roles/stereotypes is an interesting theme in this book, and who says the prince has to rescue the princess? I LOVE seeing the princess doing the rescuing!
Ms. Kontis did it again in my book, and knocked another one out of the park. I look forward to reading more about the Woodcutter family and what they've been up too in the future. Please, come join me on this adventure and let me know what you think!
P.S. There's a DRAGON! Every Prince rescue NEEDS a dragon!!!!!!!
Review #3
Audiobook Hero (Woodcutter Sisters #2) by Alethea Kontis
This is one of those rare sequels that is actually *better* than the first book. Here are the goods:
1. You don't have to go back and reread the previous book in order for this one to make sense. In fact, I suspect a person could read this book without having read the previous one and still be able to make enough sense of the background to follow the plot.
2. This story, unlike its predecessor, stays focused all the way through. And it's an interesting story, although not based on any fairy tale that I'm aware of.
3. I enjoyed the concept of a young woman who has always been a tomboy being stuck in an adventure with a young man who has been cursed to look like a girl. And it was handled well, for the most part.
4. The hero(ine) wreaks tremendous havoc without meaning to…and she doesn't get over it easily. I approve of characters who have consciences.
This gets a full 4 stars from me.
Review #4
Audio Hero (Woodcutter Sisters #2) narrated by Katherine Kellgren
Wow! I liked Enchanted but Hero blew me away! The second book in the series, this story follows Saturday, the toyboy of the Woodcutter's daughters, and I loved every second of it! It's a quick read, but with a great cast of characters and a plot that is great on its own as well as getting us set up for the following novels. Like many other reviewers, I really enjoyed Saturday, she is flawed but extremely likable and fun! Betwist and Peregrine are awesome too of course! I loved the orignial take on the love interest. It was refreshing and the chemistry was very much there. Action, humor, creative plot, and of course some romance. I loved it! I can't wait to read more by Alethea Kontis.
Review #5
Free audio Hero (Woodcutter Sisters #2) – in the audio player below
Who knew that feeling angry/frustrated could have such dire consequences?
"Hero" by Alethea Kontis is all about emotions. Fear, anger, sadness: all guide her characters' actions. And one emotion leads to another. All those feelings are masterfully portrayed by the author, causing many of the same in the reader (or at least this reader).
Of course, there is no lack of action in this tale, all based on recognizable fairy tales.
Try it and you'll probably find yourself in search of the other Woodcutter Sisters books as well.
Galaxyaudiobook Member Benefit
- Able to comment
- List watched audiobooks
- List favorite audiobooks
---
GalaxyAudiobook audio player
If you see any issue, please report to [email protected] , we will fix it as soon as possible .

---