Rise of the Shadow Rogue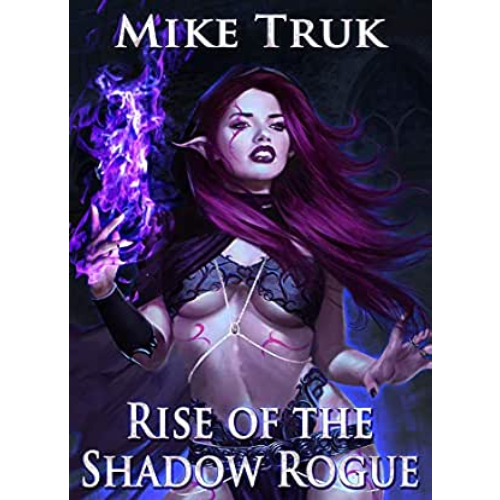 Review #1
Rise of the Shadow Rogue audiobook free
Whenever I play fantasy games, I always end up choosing the rogue/thief. For me, there is something extremely satisfying when I have to rely on cunning, tact and strategy to defeat my opponents. It comes as no surprise that I also love to read books with the characters of the same archetype. "Rise of the Shadow Rogue," is a story that follows a thief named Kellik who must start from the bottom of the ranks to exact revenge on those who betrayed him. In the process, he gathers an unlikely group of allies and discovers more about his heritage. In some ways, this story reminded me of another book that I enjoyed immensely, Leigh Bardugo's "Six of Crows."
The book does an excellent job of building the world. The author uses elaborate descriptions to explain architecture, politics and characters. From the powerful influence of the shadowy crime unit known as the "Family" to the corrupt officials, it was easy to see why this was a world filled with thieves, urchins and other roguish characters. By the time I finished the early chapters of the book, I had a sense that I was reading about a living and breathing world. I could almost feel the grunginess of Port Gloom and its seedy inhabitants.
My favorite aspect of the book has got to be the characters. The characters were all interesting and I loved the banter between them. Kellik, the main character, eventually has a harem of badass women at his side to help carry out his revenge. Along the way, he carries out side missions to gain the loyalty of his companions in exchange for their help. There was a natural progression of character development which made all the relationships feel more organic and real. Each of the female characters had their own backstory which only added to the complexity of the characters. As a side note, my favorite character was a female assassin that Kellik meets early on in the story.
The world that Port Gloom resides in, is not a kind one. It is filled with corruption and death. It take some level of tact and ruthlessness to survive in such a world. Kellik and his friends/lovers must navigate through this treacherous environment in the hopes of accomplishing their goals. Kellik is a refreshing male lead whose morality isn't so black and white but instead somewhere in the middle. Most stories that I've read about with thieves as a protagonist turn out to be a "thief" only in name. Kellik truly does embody the class of a thief as he relies on wit, tact and cunning to survive. He recognizes that he would not be able to exact his revenge alone and proceeds to gather allies as mentioned above.
The book contains two of my favorite things in a story: an awesome harem of badass ladies and a roguish male lead. Admittedly, I had low expectations of this book since I've read so many similar stories that turned out to be less than mediocre. However, this book did not disappoint and I now eagerly await for the sequel. If your a fan of dark, grim fantasy with an awesome harem of badass women, I highly recommend you to check this one out!
Review #2
Rise of the Shadow Rogue audiobook Series Shadow Rogue
I'm honestly not even sure why I started this book as I'm not really a fan of the rogue archetype. I like Mike Truk as an author though so I gave it a shot and I'm glad I did. A bit wordy at times, once I fell into the rhythm of the story It was really hard to stop. I felt like each chapter added the significance of magic to the story, which I like because I'm a big fan of high fantasy. I do wish we as the reader received more explanation about magic, how it works, those who wield and their place in the world, but I'm wondering now if it was on purpose as Kellik himself doesn't know the answers to these question. Regardless, the last two chapters were incredibly intense in all the right ways and wow what a knowledge bomb at the end. Really looking forward to the next!
Review #3
Audiobook Rise of the Shadow Rogue by Mike Truk
Rise of the shadow rogue straddles the edge between fun, flippant escapism, and a complex, gritty world building. You have a roguish MC who, thankfully, isn't cold and unrelatable, in fact, he's just as goofy and endearing as I'd imagine myself to being in many situations and that's one of the main strengths of this book.
The other strength is the length of the book. As the story builds, characters (and there are lots of strong, vivid characters! Creys and Iris are my bae.) thankfully have enough time to develop between moments of action, and *action*.
I can't say that this book is for everyone though, as some might be put off by sudden and graphic sex scenes, but, in this case, these scenes actually serve the plot and drive the characters forward. It doesn't have Five Trials elements of progression fantasy, but it makes up for it with a mystery that sucks you in, and an MC most will love.
Review #4
Audio Rise of the Shadow Rogue narrated by Ryan West
Betrayal and the act of free will. As I started this book I couldn't help but get major Theif vibes and was constantly engrossed further into the world with each page. The more Kellik grew as a character, the more he became conflicted about the nature of his ideals made me feel just that much more about his growth. I pre-ordered this version and the Audible one, and I've gotta say the audio is top notch. Loved the book can't wait for part 2.
Review #5
Free audio Rise of the Shadow Rogue – in the audio player below
The main character started out as a gritty loner and developed as the story unfolded. The storyline has just about everything – Heroes, Villains, Religion, Politics, Magic and Sex. The Sex scenes are quite strong but are completely in context. What a pleasant change NOT to have a teenage virgin as the leading character!
I've signed up as an Advance Reader and have just downloaded Book 2 in the series so I'll post a review in due course
---
Galaxyaudiobook Member Benefit
- Able to comment
- List watched audiobooks
- List favorite audiobooks
---
GalaxyAudiobook audio player
If you see any issue, please report to [email protected] , we will fix it as soon as possible .


If you like this book then you can play "full audios" in the link below. Otherwise you can scroll down and click to "+LOAD MORE AUDIOBOOKS" and find your books.