Super Powereds: Year 4 audiobook
Hi, are you looking for Super Powereds: Year 4 audiobook? If yes, you are in the right place! ✅ scroll down to Audio player section bellow, you will find the audio of this book. Right below are top 5 reviews and comments from audiences for this book. Hope you love it!!!.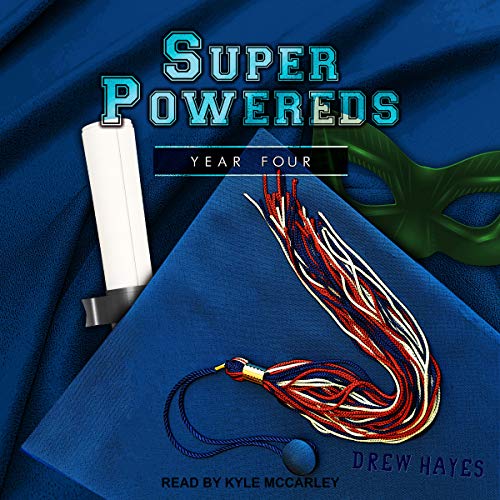 Review #1
Super Powereds: Year 4 audiobook free
In December 2013 I replaced an ancient first generation Nook with a brand new Kindle and decided to put a few books on it.
One of those books was the first book in the Super Powereds series. I started reading and couldn't put it down. Then I went looking to see if there was any more of this story. There was! I got year 2 and tore through it and still wanted more. A look at Drew's Author page pointed me to his website where he was publishing Year 3 as a web serial, as he had done for year 1 and 2 before I had discovered them.
This allowed me a front row seat to the construction of Year 3, until June of 2015 when it was published in its fullness. Yet another book to devour in a few hours.
The adventure continued with Corpies, and now with Year 4. When my pre-ordered copy of Year 4 showed up on my Kindle at 0-Dark:30 last night, I devoured it again.
Despite knowing how the story ends.
I would advise any new-comer to the series to start with Year 1. Each year is self-contained, but the character growth in each volume is important to the overall story.
In case I've been too subtle: I love this series.
Drew has said that THIS story is done, but he may well return to this world with more stories. I look forward to it.
Review #2
Super Powereds: Year 4 audiobook in series Super Powereds
I've read a lot of super hero novels, and I have to tell you . . . no other author describes super hero battles as well as Drew Hayes. That's partly because we know so much about the students at Lander University's hero certification program by their senior year. We've read the battles from years past and seen how all of these seniors apply their skills to a variety of challenges, learn from their mistakes, and invent new combat strategies based on their unique powers. Because they're in a program learning how to be super heroes, the growth in both strategy and skill ensures that no two battles are ever the same. And it's always fun envisioning how you would handle a battle compared to what "actually" happens in the books. Whether that next battle is a competition with a fellow student or a life-and-death struggle with real villains, Drew's depictions almost never disappoint.
The story line that begins building at the end of the first book and continues growing in complexity throughout the next three years is also compelling. Although there are a couple of loose ends you might notice if you've paid careful attention throughout the books, the author does a nice job of tying up everything of major importance by the end of this book.
More important that the story or the individual battle scenes are the characters you see develop over four years. Drew does an amazing job at developing the characters of the seven students who reside in Melbrook over the years and their closest friends. Aside from the super powers, the characters are very real. We all know people who are socially awkward or don't pick up on social cues and those who can work a room with seemingly no effort. We know introverts and people who love to party. Everybody knows brainiacs and master strategists, but we also know people who lack book smarts while still having enough depth of character for us to love them and be good friends. We know people who are selfish and those who are altruistic. This series includes characters fitting all of the foregoing descriptions without making them seem one dimensional. Real people are a bunch of characteristics all mashed together, even if they are sometimes contradictory. Drew's characters are like that, but then he'll emphasize one character trait in a given situation to make the character shine and become more endearing.
I came to this series a few years later than some (and after reading most of Drew's other books). I bought the first three years on Amazon before realizing the fourth one was being published as a web serial. But once I realized two or three chapters were being published each week, I began anxiously waiting every Monday and Wednesday night (and sometimes Thursday night if there was a bonus chapter) for the next installment. Several times, I tried to stop reading the chapters online so that I could read the entire book all at once after it was complete (thereby saving myself from the torture of cliff hanger after cliff hanger), but Drew is such a compelling story teller that I simply could not stay away. Even though I've already read the story, I bought it here because I know I'll be reading it again someday. Perhaps the best compliment I can give is that the entire series is worth rereading, even knowing how it ends.
Although the "Super Powereds" story is over, I can't wait to see what Drew has planned next for this universe. He's made it clear that this series was about the main characters' college years, and that story is finished since they've now graduated from Lander (even if all of them didn't graduate from the HCP). Even so, we've already seen one spin-off published (Corpies) and another (Blades and Barriers) that was in the works on Drew's website before it had to be shelved for a rewrite. I'd love to see stories from the characters' intern years, even if it's just a collection of short stories rather than a novel without an over-arching story line. Note to Drew: If you can assemble five stand-alone short stories for your Fred novels, you can do it for these characters!
I'll conclude with my one real disappointment in the series . . . Vince's hero name. Maybe other people like it, but I was really let down when it was finally revealed. Maybe that's because there was so much build up as people offered suggestions in comments to each chapter Drew published over the course of months. I'm not sure if Drew had the name picked out all along (a statement on his website makes it sound like he did) or if he felt like he had to use a name that nobody suggested. No matter the reason, the name he chose isn't half as good as "Energy Taker Lad" in my opinion, and much worse than many of the suggestions on his website. Every time I read the name, I think Vince sounds like a pervert who wants to molest every villain he meets. But at least the name isn't revealed until the very end of the series; so you don't have to read it many times.
Review #3
Audiobook Super Powereds: Year 4 by Drew Hayes
I can't say enough good things about this book and the series as a whole. Whenever I recommend it, I say it is the Harry Potter of Super Heroes. We go through four years in the life of for "powered" kids who learn what it takes to become heroes. I am so sad that it is ending. I have not had books affect me like this since reading Harry Potter. Well done, Mr. Hayes. Have another drink on me. I would give this more stars if I could!
Review #4
Audio Super Powereds: Year 4 narrated by Kyle McCarley
So with Year 4, Drew Hayes brings to a conclusion an absolutely massive, intricately plotted and rousing tale.
Bravo.
Almost 330 chapters, a huge ensemble of characters and the royal rumble of all time at the end, Hayes knocks this one out of the park not only giving a fulfilling story but expert fan service as all of our favorite characters get their moment to shine.
The one thing about the Super Powered Universe is that these books are immensely satisfying to read.
Most novels, particularly superhero prose fiction are appetizers or fast food. Tasty treats that lead to inexorably towards the next chapter or book.
Hayes writes these stories the way that a chef prepares and serves the most sumptuous seven course meal imaginable.
Its all there, it keeps coming and it ends with a flourish.
I give a damn about these characters and this world, and I hate to leave them even for a short period of time while Hayes retools for the next saga.
I want more of this but I can say without equivocation, that I am more than willing to wait for the chef to craft another masterwork.
Review #5
Free audio Super Powereds: Year 4 – in the audio player below
Okay, I might be a bit over dramatic with the headline, since Hayes is obviously going to continue writing in this universe. It's just sad to see this chapter in these characters' lives end. It's been a hell of a ride, and I look forward to reading more of their adventures in future books.
The book itself? Cool. Endearing. Action-packed. It tied up the plots and subplots well, and even left it open for more to come. On a personal note: it did ruin my entire plans for how I was going to spend my "daylight saving time"–you know sleep in and find a nice place for brunch. Instead of all that, I ended up staying up the whole Sat to complete it–actually witnessed the time change–and spent the rest of Sunday mourning the close of this series…
Anyhoo, woe is me, right? Soooo … what am I saying here? If you haven't read this book yet, do. If you haven't read this series yet, start. Keep in mind that there are a lot of pages (it was a "serial series" on his website after all), but they do fly by. However, you will want to read all the books in sequence–SP1, SP2, SP3, Corpies, and SP4. Otherwise, I think you'll be missing out on all the fun.
---
Galaxyaudiobook Member Benefit
- Able to comment
- List watched audiobooks
- List favorite audiobooks
---
GalaxyAudiobook audio player
If you see any issue, please report to [email protected] ( Or scroll up a little you will find the "REPORT CONTENT" button) , we will fix it as soon as possible .

Please wait 6 Seconds and then click to "Open Audio Player in a new tab".