Under Locke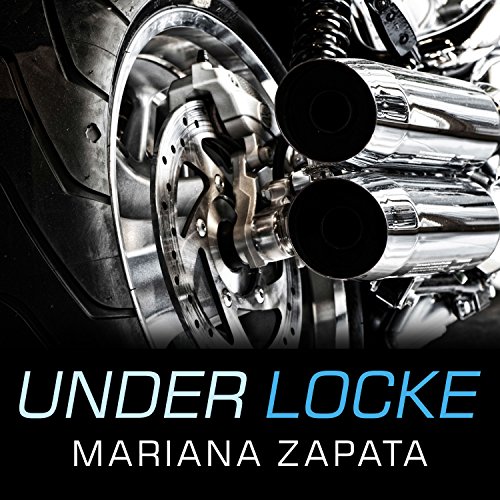 Review #1
Under Locke audiobook free
I'd rate this 4.5 stars so even though there were a couple of annoyances for me, I loved it. As per this author's portfolio, this is a slow burn with the male leading spending the first half of the book being a total jerk to his future beau. Themes covered in this book include a grumpy hero falling for a sweet, sunshine-type female lead, the hero being in a motorbike club, him owning and working at a tattoo studio and her being a down-on-her-luck-but-keeps-on-truckin' type of gal who's also a cancer survivor. Even though it was a slow burn and the book's love interests took a while to hook up, there's some good steam which includes nipple and pubic area piercings.
Iris, or Riss/Ritz, rocks up at her half-brother's place in Texas, hoping that he (Sonny) can help her out while she gets her feet back on the ground after losing her job in Florida and being broke. He gets her a job running the desk and books at Pins and Needles where she works for the abrasive, devil-may-care Dex Locke, a fellow member of his Widowmaker MC. He's frighteningly blunt, rude, difficult, an ex-felon, hard to get along with and has a temper that would make the devil himself take a back seat trying to stay out of his path. That being so, he's pretty much horrid to Iris every time they interact to the point where she comes up with unflattering nicknames for him and tries to avoid his presence whenever possible. If the book's to be believed, Dex is also the best looking guy in the world, a bit of a player and leaves women swooning in his path. I loved him, especially the fact that he was jealous, possessive and dominant x1000. I also really enjoyed Iris' character, even if she was a bit of a pushover at times. When she was going for strong, she generally still caved or got over things to the point where I felt Dex (and maybe a couple of the other characters) was almost gaslighting her at times as she forgave him without too much of a deserved grovel from him and generally ended up blaming herself (you know the whole 'I shouldn't have done what I did but it's kind of your fault that I behaved so poorly – yuck). They both had ghosts from their pasts hovering around their present making it hard for them to trust others, particularly in the form of terrible fathers. When Ritz's father can't be found after leaving a sizeable debt in his wake, trouble comes to her door and this forms a good chuck of the second half of the book.
There are rival gangs and MCs, soul-searching, MC life and trying to make the best of the hand you're dealt. I haven't read a lot of this author's book but I do like her style. That being said, there's definitely a pattern/feel to her books coming from similar vibes that her male and female leads give out. As I said above, the hero was grumpy and emotionally standoffish except to his one in a million soulmate. The heroine was upbeat, almost sickeningly positive and, at the risk of quoting those cringe-worthy people that post motivational quotes like it's their reason for breathing, living her best life (I just hated myself a little for writing that, I'll have you know). She was also down on her luck and in need of some TLC, a familiar story line with this author. I'll admit, I eat this stuff up even though Dex was a bit of a douche canoe at times and it's a big reason I love this author even though in real life I usually I tend to want to stab things just because I don't like the look of them. Combined with a great, but small, cast of secondary characters and this book was a winner for me. I especially loved the relationship between Sonny and Iris (although I would have been happy to see her younger, ungrateful and mostly absent brother be subtly pushed off a cliff).
I took a star off because there were a few typos, some weird story breaks and language choices and a bit of repetition in the book. I'm not even kidding when I say that at least half of the conversations in this book take place with some form of blinking being highlighted from Dex, Iris or both. Like, do they need to get that checked out? I did a quick search at there were around seventy (yeah, you read that right) references to blinking). The book was a decent length at almost 500 pages, but even then that averages at blinking cropping up every six or so pages. Then there were the constant reminders about how cut, smoldering and handsome Locke was. I get it. He's the best thing sent to earth since sliced bread. Move on already. The reader doesn't think he's turned into a hideous ogre just because you haven't mentioned his stubble or cheekbones for five minutes. Oh, and his blue eyes that were there almost as much as the blinking. And Ritz gagging or about to puke to the point that the references were probably about to make me nauseous. Some of the choices to make Iris one of the gang were also a little cringey. Her apologising for making a 'That's what she said' joke like it was really inappropriate amongst a room of tattooists in a building owned by a biker was a little over the top. Just have her make a joke without having to explain because then it's just not that funny. There was also some ridiculous other woman drama from Iris because Dex 'the hottest man alive' was…gasp…not a virgin and had been with other women from the club. Clutch your pearls, readers.
What was funny, however, was the sarcasm in the book. This will always win points from me. The chemistry between Dex and Iris was hot, especially due to how possessive and dominant he was. Some of the strange language choices I mentioned above also came into play here, so be warned. I'm talking meaty undersides. Anywho, veiny and explicitly described coloured anatomy aside, this was a great read for me and I'll be reading it again at some point in the future. One of my favourite quotes from the book: 'You've gotta be the best thing I never knew I wanted.' Swoon. And I love the cover.
Review #2
Under Locke audiobook
I LOVED this book and frankly I couldn't be more surprised about it! I DON'T read MC books. Though I love motorcycles I came to realize a while ago that them and me, at least in books, don't mix and yet this book though was NOT my usual 'cup of tea' was impossible to put down, drawn me in, sucked me into the story, and kept me interested every step of the way (even though it's WAY longer than I'm used to in "regular" Contemporary Romance novels). So yeah, I'm a fan 🙂
Iris Taylor lived a very difficult life. Through her father abandoning her mother with her little brother, through sickness she fought and won, and a sickness her mother hasn't. Raising her younger brother when they are left alone in the world just the two of them after her grandmother's passing as well. Lucky for her there is another fixture in her life – her half brother Sonny. They might share a horrible father who abandoned all of them, but mostly they share a kind of relationship many siblings wish they had. So now, with her younger brother in the army, finding herself with no job to support herself, Sonny comes to her rescue, offering her a place to stay and also a possibility of a job, if only she can make herself work for the grumpy and mean Dex Locke, a Motorcycle member like her brother (and their father) something she loathes by definition as well as an owner of a Tattoo Shop.
Iris starts as a loner, someone who knows how to stand for herself but mostly doesn't because she would rather duck her head down and stay at home than deal with the people around her. She might be close to her brother but her life taught her to guard herself and that she does well by staying on her own. Most of the people in her life either abandoned her or disappeared on her (except for Sonny) and so she isn't interested in making new connections. She is surprised with herself the friendship she DOES form with the other 3 workers in the Tattoo Shop though and as the book progressed it's beautiful to see her opening up to them.
Dex is another subject entirely. They start on the wrong foot, he and his big mouth – offending her and looking down at her. I guess he had in his mind his own version of who Iris is through the little he heard from Sonny and through what he sees – on the surface – of her. He couldn't be more wrong on so many levels! and yet that's Dex. Quick to judge and mostly quick to react with his hot temper. I can't say it's a quality I find appealing in any shape or form but in a way, I sort of liked the fact that it also made him humanly flawed. I hate those Alpha males who navigate a woman into the places they want her to be but you know what, with him it also kind of worked because what he did was somehow make Iris stay a bit in the places that frightens her most – the places she is vulnerable – where she needs to trust and believe the person on the other side would STAY. So even though he was pushy beyond what I would have been comfortable with in a romance novel I think I came to realize along the way that he is NOT a man I could ever find myself with, yet for Iris he is simply perfect. I also think that though he can be mean with the things he says, Iris learns how to deal with him, put him in his place and make her wishes clear in a way he listens. It showed that not only she grew in this book, but he did as well (though we only get her POV throughout the book).
The main issue in this book isn't just about her and Dex it was also dealing with the sins of her father.. and not the ones he committed years ago when he abandoned his children, but more recent ones – owing money to the wrong kind of people who find the best way to get what they are owed is through his children – Sonny and Iris. They might not know he doesn't have any connection to him, but nevertheless it puts both of their lives on the line. Lucky they have the help of their MC club to try and find him and make him pay his dues. I truly didn't know how it would come to pass once they DO find him since the MC have been clean of unlawfully behavior for years now, and though I was surprised the way it ended I actually really liked it.
This book have truly been a great surprise to me. Motorcycles Club are REALLY not my thing, and I REALLY don't have patience for neither Alpha Males and not so much to SUCH long books (unless it's a PNR with a longer world building) so this one – being so capturing and engaging was so NOT what I was expecting. Yeah Dex got on my nerves a few times and yeah, Iris could be a bit annoying with the worshiping of Dex's perfect body but truth be told, it simply didn't matter in the grand scheme of things. The book just held me on the edge of my seat and all those little things didn't bother me that much. Even Dex's behavior at the beginning, since I knew there's going to be some sort of redemption on his part, I looked for it from the start and saw not this horrible guy, but someone who has struggled all his life with his temper, a closed off man who doesn't know how to truly rely on others. Iris was everything he needed as well, someone to ground him. It was beautiful to see him change yet in a genuine way. He didn't become a whole different person, no, it was more realistic than that.
Review #3
Audiobook Under Locke by Mariana Zapata
I've been hearing about Mariana Zapata's books since i got back into reading romance. It seemed that everyone was ranting and raving about how amazing and impactful her stories were. I put off reading her work for so long, honestly, because I was afraid that the books wouldn't live up to the hype, as so many other popular books i've found on Booktok and Booksta have proven to be. But let me be the first to say, that Mariana Zapata's talent for writing an intriguing, interesting story that sucks you in so deep is one of a kind. This book was one of very few that had me wanting to finish it to know how the story ends, yet not wanting to finish it because I did not want to say goodbye to characters and a story that filled my heart and mind. Dex and Iris (and Sonny, Slim, Luther and Blake, of course!) captured my heart and attention, making me fall as in love with them as they are with each other. I don't want to give too much away, but if you like the following to be a part of your story, then i highly suggest reading this book.
Review #4
Audio Under Locke narrated by Callie Dalton
Iris moved to Austin because she was unemployed having been let go six months previously and her half-brother Sonny said she could stay with him. She was at her lowest and when he found a job for her, she thought things would be okay until she met her new boss. Dex was without doubt a handsome man, covered in tattoos, and he stood over six feet tall as he growled at her on their first meet. He was impatient, grumpy and she didnt think she could last. But she did. There were lots of tears on her part and he told her to toughen up as many times as he said sorry. Gradually she learnt the job and became very aware of him brushing by her, little touches that made her tingle. He was part of a motorcycle club and Iris wanted to stay the hell away from anything that reminded her of her father. Someone came looking for her and her brother when money was owed by him, and Dex took on the role of protector. The story builds up the relationship Dex has with her and its lovely to see them connecting. A really good read and a fab story.
Review #5
Free audio Under Locke – in the audio player below
I enjoyed this book and love a good slowburn trope as it usually gives the angst and anticipation which keeps me on the edge of my seat and up all night reading. The plot line was good and I loved that it involved an MC as well as a good girl bad boy trope. (one of my favourites) However this wasn't up there with the other books I have read by MZ.
I didn't connect to the characters I found the MFC rather annoying which made me lose interest. Dex was overbearing also which I was put off by. He didn't come off as the possessive alpha to me that he was portrayed as. There was also a lot of filler dialogue that I didn't feel necessary.
I really love a lot of MZ books and will continue through her back list as she is the slowburn queen but this was just likeable not loveable for me.
Galaxyaudiobook Member Benefit
- Able to comment
- List watched audiobooks
- List favorite audiobooks
---
GalaxyAudiobook audio player
If you see any issue, please report to [email protected] , we will fix it as soon as possible .

---