A Song of Ice and Fire full series includes:
Originally planned as a trilogy, the series now consists of five published volumes:
A Game of Thrones (1996)
A Clash of Kings (1998)
A Storm of Swords (2000): in some countries, published as two volumes: 1- Steel and Snow, 2- Blood and Gold.
A Feast for Crows (2005)
A Dance with Dragons (2011): in some countries, published as two volumes: 1-Dreams and Dust, 2-After the Feast.
The remaining two novels are provisionally titled:
6. The Winds of Winter
7. A Dream of Spring (formerly known as A Time for Wolves)
– After the Feast Description Author Biography George R.R. Martin is the author of fourteen novels, including five volumes of A SONG OF ICE AND FIRE, several collections of short stories and numerous screen plays for television drama and feature films
A Song of Ice and Fire audiobook full series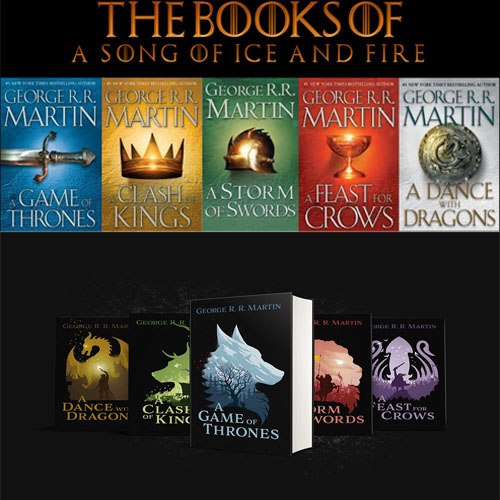 A Song of Ice and Fire full series – Background and Origins
Martin had a longtime love of miniature knights and medieval history, but his early novels and short stories mostly fit into the science fiction and horror genres; however, eventually several fantasy stories did appear, such as The Ice Dragon, which he later turned into an illustrated children's book by the same name.
In the mid-1980s, Martin worked mainly in Hollywood, principally as a writer or producer on The New Twilight Zone and Beauty and the Beast. After Beauty and the Beast ended in 1989, Martin returned to writing prose and started work on a science fiction novel called Avalon.
In 1991, while struggling with this story, Martin conceived of a scene where several youngsters find a dead direwolf with a stag's antler in its throat.
The direwolf has birthed several pups, which are then taken by the youngsters to raise as their own.
Martin's imagination was fired by this idea, and he eventually developed this scene into an epic fantasy story, which he first envisaged as a trilogy consisting of the novels A Game of Thrones, A Dance with Dragons and The Winds of Winter. Martin had apparently not been previously inspired by the genre, but reading Tad Williams' Memory, Sorrow, and Thorn series convinced him it could be approached in a more adult and mature way than previous authors had attempted.
After a lengthy hiatus spent writing and producing a television pilot for a science fiction series he had created called Doorways, Martin resumed work in 1994 on A Game of Thrones and completed it the following year, although he was only partway through his initial plan for the first novel. As a result, over time, Martin eventually expanded his plan for the series to include four books, then six, and finally seven, as the tale "grew in the telling," he said, quoting epic fantasy master J.R.R. Tolkien.
Publication of A Game of Thrones followed in 1996. In the UK, the book was the subject of a fierce bidding war, eventually won by HarperCollins for £450,000.
Pre-release publicity included publication of a "sample novella" called Blood of the Dragon, which went on to win the 1997 Hugo Award for Best Novella. To fit A Game of Thrones into one volume, Martin had pulled out the last quarter or so of the book and made it the opening section of the second book, 1998's A Clash of Kings.
In May 2005 Martin noted that his manuscript for A Game of Thrones had been 1088 pages long without the appendices, and A Clash of Kings was even longer at 1184 pages.
Galaxyaudiobook Member Benefit
- Able to comment
- List watched audiobooks
- List favorite audiobooks
---
GalaxyAudiobook audio player
If you see any issue, please report to [email protected] , we will fix it as soon as possible .

---