Bullseye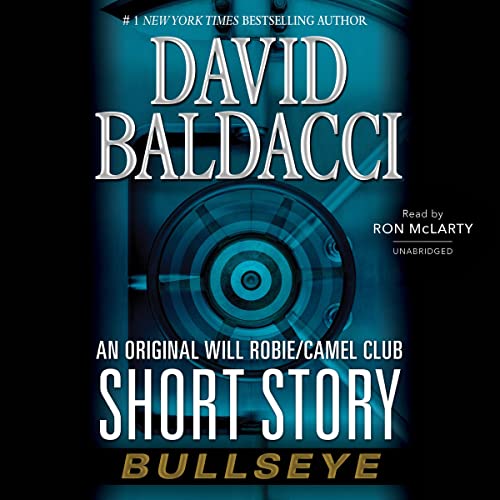 Review #1
Bullseye audiobook free
I have only vague recollections of the members of the Camel Club and their exploits, since I read those books years and years ago. I may have even missed one or more of the later books. I will have to go back and refresh my memory. Nevertheless, my lack of knowledge did not hinder my enjoyment of the novella. I suppose if one had no knowledge of who and what the Camel Club are that the novella might have been somewhat confusing especially since the story featured Oliver Stone rather Will Robie, which was actually somewhat disappointing. Robie did little of the mystery solving or arranging the resolution, although his shooting skills were certainly put into play. He was present almost solely in his role as assassin and demonstrated only a little independent involvement in the whole hostage situation at the bank, despite being a hostage and having keen observation and problem solving skills, as we know from the books featuring him. Other than being a shooter, he imostly serves as a foil to Stone's character. All that being said, the book was still an enjoyable excursion with some of Baldacci's more unforgettable characters. (Too bad John Puller did not participate in the story.) The plot was not terribly complex or even elegant and the usual description of places and secondary characters was missing, which made the story less nuanced than Baldacci's longer novels, but the story moved along at quite a clip and kept my interest throughout. It was fun to see Stone and Robie interact. My one true criticism is regarding the discussion in the book of the construction of the bank's physical space. At first, the woman explaining the reason for the irregular shape of the bank said that she learned about it after asking people in the banks once she noticed it. She is asked if one feature reached the top of the building. She thinks about and then surmises that it must. However, in the very next paragraph, she then states that she is sure that it does, because her husband, who is in the construction business, had plans of the building and she saw that it did. This was not a correction of her previous statement on her part, but instead was a completely different version of her thoughts. She goes on to say that she learned everything about the space from the plans and her husband before she worked at the bank, contradicting her prior statement that she learned about the space due to her asking colleagues when she became curious about the space. Obviously, she would not have been curious if she knew about the space before she even worked there. How and why she learned about the space is not remotely important to the plot, but the discrepancy was annoying and disappointing. I expect better of Baldacci. It is a relatively minor peeve that is only made large due to the brevity of the story and the fact that the discontinuity occurred in adjoining paragraphs. Why didn't Baldacci or his editors, proofreaders, or friends and family catch this before publication? Maybe I am missing some subtle point given that I did not follow the construction discussion regarding pop-outs, dead space, and so on very well. Still, I really recommend this novella highly to fans of Baldacci and the Camel Club and Will Robie. I have the new Will Robie book, "The Guilty," and I am looking forward to getting sucked back into Robie's world.
Review #2
Bullseye audiobook Series Will Robie
Don't let the meager length of Bullseye dissuade you from picking it up, for you'd be doing yourself a grave disservice. For an author who's known for crafting masterfully complex plots through a prolonged period of pages, Bullseye serves as proof that Baldacci is capable of illustrating a shorter, more condensed product without sacrificing the quality that he's become known for. It offers something that a huge fan like myself never knew he ever wanted, a crossover between my two favorite Baldacci series, The Camel Club, and his newest series centered on the American assassin Will Robie. It's the old generation colliding with the new in a novella that encompasses everything that Baldacci does best; it's exciting, intelligent, and filled with the memorable characters that fans of Baldacci have come to know and love.
Like any good author of technothrillers, Baldacci once again shows he's more than capable of creating an ample amount of tension that practically radiates off the pages. The atmosphere illustrated in the bank during the heist is filled to the breaking point with anxiety. There's a profound notion that any of the robbers could just snap and put a bullet in any of the hostages who they suspect might threaten their objective. Even with the combined manpower between the two premiere assassins of Stone and Robie, Baldacci wisely places them in a scenario where they're still in a position of vulnerability, lest the story would lose any form of tension or immediacy.
Being confined together also gives Baldacci a great opportunity for some memorable dialogue between Robie and Stone, to which he doesn't disappoint. Like I said, it's the older generation colliding with the new, allowing both their strengths and years of experience to flourish as one. My only criticism however is that Robie got the short end of the stick in regards to attention. The entirety of the novella focuses on both Stone and Robie attempting to survive the heist while the other members of the Camel Club help undermine the scheme from the outside. I won't go as far to say that Robie is underutilized, but I feel more could have been done with him. After all, crossovers should never favor one side over the other, Robie felt like a special guest at times rather than an integral part of the plot.
It must also be known that this is not an ideal jumping on point for either series. Fully appreciating this novella requires at least a basic foundation of both series of novels, which means reading at least The Innocent and The Camel Club beforehand. Yet this shouldn't dissuade you from reading this excellent piece of fan service. Both of those novels are two of my favorite examples of the technothriller genre, and Bullseye only exacerbated how much I enjoy not only them, but Baldacci's writing in general. Hopefully he'll see the potential here and feature both characters again in a full novel.
Review #3
Audiobook Bullseye by David Baldacci
Most people seem to have given this few stars because they didn't realise that this is a short story. Which means that they didn't read the product description first. This is a Baldacci Five Star story. It has pace, authenticity, good background research, brilliant characters and the bringing together of Will Robie and Oliver Stone. Wow!!! The critics are rather like folk who order a product from Amazon without looking to see who the supplier is then moaning that its taken three weeks to arrive from China. This is the best short story I've read and my only regret is that it was't longer.
Review #4
Audio Bullseye narrated by Ron McLarty
Settled down all snuggely on the third day after starting this book only to find out it was just an expensive advert cunningly described as a ' short story '. DON'T WASTE YOUR MONEY.
S'pose I should have realised from the price tag (£1.49) that something was different here. I was quite looking forward to reading this "Will Robie meets John Carr" and wandered off to the pub for a quiet pint and a read – as just as it all got going, that was it. The End. Fin.
At first I thought my Kindle reader had burst a gasket or something (it's on a Windows Phone and neither Amazon nor Microsoft can be bothered to update the reader app, so it's flakey at the best of times). Checked; nope, the whole thing really is just a few tens of pages long. First thought was that Baldacci must be a cheeky wee git if he's reduced to selling half-thought-through story excerpts.
Review #5
Free audio Bullseye – in the audio player below
This was a definite can't put it down till it's done kind of book. Baldacci definitely delivers in the novella category just as well as in the longer novel medium.
Whether you read him or not there is enough substance to the characters to make them believable and if like me you have read most of his stuff, it was a delightful stroll down memory lane with characters that you will have come to love.
Galaxyaudiobook Member Benefit
- Able to comment
- List watched audiobooks
- List favorite audiobooks
---
GalaxyAudiobook audio player
If you see any issue, please report to [email protected] , we will fix it as soon as possible .

---