The Return of the Witch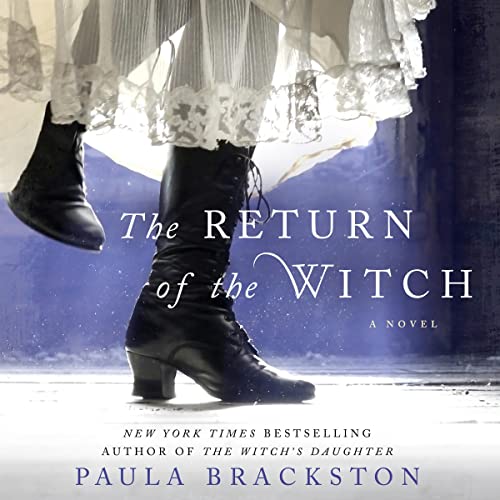 Review #1
The Return of the Witch audiobook free
The first book about Elizabeth or Bess was truly a wonderful journey. I was excited to find a sequel. I must say that the sequel did disappointed me. The first was full of E!I abetted story. Each tale of the centuries she lived left me hoping for more. This book it do much. I did a lot of skimming leaving off lots of words. These words took up space on a page. When I realized that the book had Gideon as part of the characters again I went to the end hoping to find that this character wad done away with j halfway through the sequel. I would have loved to read about her time in Sommerland (spelling?). What happened with Gideon there and why was leaving this place so difficult. Tehran's story could have been so awesome. I wanted to know more about how she became great. Didn't need to know about William (that was a waste). That whole Stepping concept could have been amazing to explore. There could have been enough material to expand on Tegan and Erasmus in a book 3 and still have Gideon's plan work itself out.
Review #2
The Return of the Witch audiobook Series Shadow Chronicles
Paula Brackston has released another well-written, heartfelt story, this time returning to the characters of Elizabeth "Bess" Hawksmith, her adoptive daughter Tegan, & their old enemy Gideon. While I did enjoy this book, particularly the addition of Tegan's POV to compliment Elizabeth's, I don't think it quite lives up to the original, The Witch's Daughter. There were a few points when I felt that the plot stalled a bit, & I had to kind of push through to get back to the true meat of the story. The last third of the book was absolutely excellent, however, & I truly enjoyed the introduction of many unique characters, particularly Erasmus & Aloysius! The group of afflicted poor children Elizabeth administers to during the Victorian era are a treat as well.
As with The Witch's Daughter, Return of the Witch was at its best for me during recollection of a flashback. While we witnessed the highlights of Elizabeth's long life in the first book, the sequel's flashbacks come from Tegan, who has grown greatly as a witch & as a character during the five years we are told have passed since the conclusion of The Witch's Daughter. While Elizabeth remained with her sister-witches, keeping watch over evil Gideon in the Summerlands, Tegan travelled the world around, learning at the feet of some of the most powerful & uniquely gifted witches alive. She has truly come into her own as a young woman & as a witch. Her joyful reunion with Elizabeth was one of the most powerful moments in the book.
However, it is the result of the incredible power Tegan has amassed that brings her into an escaped & more dangerous-than-ever-Gideon's radar for a second time. There were a few things about Tegan's side of the story during her captivity with Gideon that I wish had been better fleshed out; I feel that I would've enjoyed learning more about that side of things over some slow parts from Elizabeth's POV. Overall, though, I am happy with the level of closure Elizabeth received, even enjoying a brief reunion with her first love & a return to the town (and year) of her birth.
Just prior to reading this book I started reading Paula Brackston's newer series, beginning with The Little Shop of Found Things. Reading about Erasmus's powers in Return of the Witch put me in mind of Xanthe from Found Things, & I wonder if the two time-stepping characters will ever cross paths? Might be an interesting way to cross the two series. Bottom line, although I didn't find this quite as delightful as it's predecessor, Return of the Witch was still a worthy offering from an always impressive author, & a must-read for any fans of the original. It draws a satisfying end- or rather a new beginning- to both Elizabeth's & Tegan's story so far.
Review #3
Audiobook The Return of the Witch by Paula Brackston
This author is exceedingly gifted in her style of writing. She draws you into her story from the first page. And from there you enter a world of magic, love, danger, and energy that doesn't let you put her book down. I recommend this book to everyone who enjoys magical, exceptional writing which I didn't expect. So I was truly surprised and I will be reading more from Paula Brackston!
Review #4
Audio The Return of the Witch narrated by Marisa Calin
I love a good witch story. I love a greater one even still! Having read The Witch's Daughter, I was immediately thrown into a time long ago where women, young or old, were persecuted for having knowledge outside of societal norms. Watching Elizabeth give her heart to a young neglected Tegan, and remain her protector after her death was a love worth reading about. So suffice it to say I was excited to learn there was a sequel! This sequel gave me the opportunity to see the power of love and devotion magnified between this duo. I loved how Elizabeth grappled with reconciling Tegan the child and Tegan the accomplished witch; I'm glad she didn't hold onto that insecurity for long. Learning about the arts of elemental power and meeting new characters, I was all for it!
Review #5
Free audio The Return of the Witch – in the audio player below
Paula Brackston is an amazing author. The series "The Return of the Witch" had me spellbound (pun but absolutely true) from the beginning of book 1 through end of book 2. It twist and turns through time and characters so that you are always amazed at what just happened and excited to see what happens next. I didn't think I could like the second book more than the first but I must admit the additional characters were amazing. This series is a must read. I know you will be as spellbound as I was.
Yet another PB novel enjoyed. This is the sequel to Witches Daughter and I started it immediately on finishing the first, keeping up my relationship with Elizabeth, Tegan, and of course Aloyious!
Three down now and already dreading when I read the last one (still a couple to go) with The Little Shop of Lost Things due out in Summer 2018, I think, a bit of a change of theme. Hope Paula keeps adding to her Wicca series occasionally, its gentle magic in itself, and very worth a read.
---
Galaxyaudiobook Member Benefit
- Able to comment
- List watched audiobooks
- List favorite audiobooks
---
GalaxyAudiobook audio player
If you see any issue, please report to [email protected] , we will fix it as soon as possible .


If you like this book then you can play "full audios" in the link below. Otherwise you can scroll down and click to "+LOAD MORE AUDIOBOOKS" and find your books.