The 17th Suspect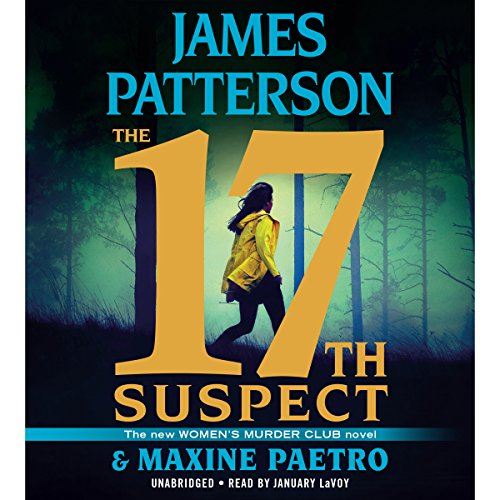 Review #1
Mate Bond audiobook free
Summary:
An informant pulls Lindsay into a heartbreaking series of murders outside her jurisdiction. She can't let go, even though she knows she should- someone is taking down San Francisco's homeless and the cops working the cases don't seem to care. Millie, her informant, is kind and lucid… and scared. Someone needs to protect her and Lindsay just knows she has to be the one to do it. At the same time, though, her health is failing and she is getting backlash for going into another's jurisdiction. Can she keep it together and help her informant? Or has she finally taken on too much?
While all this is happening Yuki is taking on an explosive case. A handsome young man claims to have been raped by his ex-girlfriends and supervisor. Matt's story breaks Yuki's heart and she takes on the case against Brianna Hall. The internet is going nuts- can an able bodied man truly be raped by a woman? Yes, Yuki knows they can… but was Matt? Both sides have their own story- and both are believable. Who's telling the truth? At the same time, Yuki feels like her husband Brady is taking a step back from her. They are both busy professionals…. can they keep their careers and marriage?
My thoughts:
Patterson is still one of my all time favorite authors- and this is one of his top three best series'. I love Lindsay and her crew- they are a well developed and interesting group of characters that each bring something special and unique to the group. We have watched this team learn and grow for years, becoming a part of us. I think that's why this is one of my favorites along with the Alex Cross and Michael Bennett series. I need to be able to revisit these old friends, join in their adventures. All three are instant-buys for me, no matter what.
The plot was good and the story had a nice transition from Yuki to Lindsay. It was fast paced, action packed, and held the perfect amount of emotion. I loved it to death. I even found myself feeling for the shooter, just a little. That's another thing I like about Patterson- you get to visit the shooter's mind, find his motivation and quirks. They'll never be your BFF, but it's interesting to see this side. My only complaint is that I felt like Cindy and Claire took a backseat in this one- they were barely present at all! It brought the book down for me- just a touch. Admittedly, I can't see how you could bring them in without adding at least a hundred pages to the book…. but they're still part of what makes this a successful series. For me, this is a four and a half star book. I highly recommend it, but read the other ones first- and don't forget the bookshot!
On the adult content scale there's violence, language and sexual content. I have to say that this is one for more mature audiences. My niece will not be receiving this book. Let's give it a seven.
Review #2
Mate Bond audiobook Series Women's Murder Club
It was weird having a Women's Murder Club where it didn't feel like Lindsay was the main character. It was more about Yuki's case, which was fine and interesting – just weird.
I guess it makes sense that Yuki's case was the highlight of the book, because Lindsay's story wasn't all that interesting. There wasn't much mystery around it even though we didn't have all the details. It just didn't pull me in like some of the others had. It's always great being back in Lindsay's world as she is one of my all-time favorite protagonists, but 17th Suspect came up a bit short.
I'm also not sure that I enjoyed the outcome of Yuki's trial. There are going to be spoilers here, so if you don't want them, my rating for this book is 2.5/5 stars and if you're already immersed in the WMC story, it'll go by quickly and you have to read it to stay up to date.
Review #3
Audiobook Mate Bond by James Patterson
I really enjoyed James Patterson's "17th Suspect" which is the latest in the Women's Murder Club series. In this book there are two major plots that run simultaneously and there are also a few subplots. Lindsey Boxer is caught up in a series of murders of homeless people that take place out of her jurisdiction, which does not sit well with the police from that district. Lindsey feels that the cops there aren't giving the killings the attention they deserve.
In the other story, Yuki takes on a case of a young man who says he was raped by the woman he had been dating. An unusual case, but Yuki is beyond prepared when she gets to the courtroom. Claire and Cindy show up several times in both plots. Besides her police work, Lindsey suffers some health problems which add a bit of a subplot to it all.
I found the book to be a page-turner despite how so many other reviewers felt. The Murder Club ladies don't get together as much as in previous books, but they are all extremely busy with work and home life. I thought that was more true to our modern day lives than it was to a flaw in writing. I liked it and I've pre-ordered number 18.
Review #4
Audio Mate Bond narrated by January LaVoy
I am stunned at how boring this book is. I've just stopped reading well shy of the half-way mark. I have loved this series, and JP is one of my favourite authors but honestly? I feel like asking for my money back. I won't be reading anymore in the Murder Club series. What a complete disappointment.
Review #5
Free audio Mate Bond – in the audio player below
Having read all 16 "Murder Club" books I was looking forward to this one. It is hard sometimes to write a book review without giving away "spoilers", but here goes. For the first half of the story I worried that this was a bit of a disaster. Yuki heavily featured, and Lindsay just about in it. (Do we not buy the books because of Boxer??) The male rape story sounded interesting, but I felt wasn't going anywhere, and the murder Lindsay gets involved in wasn't very gripping. Then literaly just about halfway it perked up considerably into more of a typical Patterson/Paetro novel. I began to care about the outcome(s) and found it a real page turner. If I could it would be 3 1/2 star Not quite up to his usual standard for this reader, but definitely worth reading if you are a follower of "The Club".
Play all audiobooks Best Fiction audiobooks Best Non-fiction audiobooks Best Romance audiobooks Best audiobooks
---
Galaxyaudiobook Member Benefit
- Able to comment
- List watched audiobooks
- List favorite audiobooks
---
GalaxyAudiobook audio player
If you see any issue, please report to [email protected] , we will fix it as soon as possible .

Hi, the "Bookmark" button above only works for the Audio Player, if you want to do browser bookmark please read this post: How to bookmark.